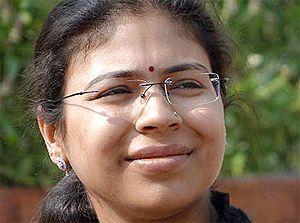 Fifty-six days after she was summarily suspended by the Akhilesh Yadav government, Durga Shakti Nagpal, the young upright IAS sub-divisional magistrate of Greater Noida, was finally reinstated on Sunday.
Her suspension was revoked quietly following a word from Akhilesh Yadav whom Nagpal met alongwith her husband on Saturday. Her husband Abhishek Singh is also an IAS officer of 2011 batch and currently posted as sub divisional magistrate in Kanpur Dehat.
The Akhilesh government had been under fire from various quarters ever since the suspension was ordered well past midnight on July 27.
While it was common knowledge that the 28-year old 2009 batch IAS officer was punished because she dared to take on the illegal mining mafia, masterminded by a ruling Samajwadi Party leader, the chief minister had sought to justify his action by proclaiming her guilty of demolition of a mosque being built in Kadalpur village under Greater Noida.
The ruling party's politics of Muslim vote also got exposed in the bargain when UP Health Minister Ahmad Hasan went to the extent of publicly appealing to Muslims "to always support the Samajwadi Party as Akhilesh Yadav had gone to the extent of punishing an IAS officer because she pulled down the wall of a mosque."
He even sought to compare Akhilesh's action to that of Mulayam Singh Yadav's order of firing on karsweaks when they attempted to storm the Babri Mosque in Ayodhya in 1990.
The suspension brought much discredit to the Akhilesh government as demand for her reinstatement was raised from across the country.
Nagpal was hailed as an officer with a spine as it was the first time that anyone had dared to take on the sand mining mafia widely known to be very active all along the banks of the Yamuna river in the neighbourhood of the national capital.
Even public interest litigations were moved by independent organisations, both in the Allahabad high court as well as the Supreme Court, to get her suspension revoked. But they were dismissed on technical grounds.
Meanwhile, Nagpal, in her representation to the state government, defended her action as the wall of the mosque was being erected in an unauthorised manner and that too on public land and belonging to the gram sabha. She also sought to draw the government's attention to an order of the Supreme Court which not only prohibits construction of any religious shrine on public land, but also warns district magistrates across the country to ensure compliance.
Significantly, her district magistrate Tavi Kant Singh too supported her and refused to toe the government line following which he too was given marching orders from Gautam Budh Nagar.
After sitting pretty over her reply, the government finally decided to revoke her suspension. According to sources in the chief minister's office, "Nagpal was let off with a warning to be more careful in handling sensitive matters."
The IAS officer of Punjab cadre was shifted to Uttar Pradesh cadre in August last year, following her marriage with a UP cadre IAS officer, who after completion of training at the Lal Bahadur Shastri Academy of Administration in Mussoorie got posted to Kanpur Dehat.
She shot into the spotlight soon after she began taking stringent action against the illegal sand mining mafia in the region. Her suspension turned her into a celebrity as she was hailed by all and sundry.
Image: Durga Shakti Nagpal