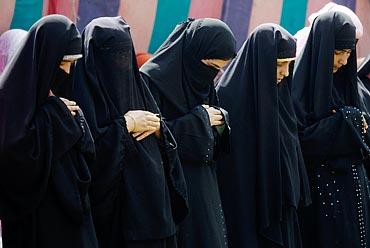 Holding that fixing marriageable age for Muslims was an encroachment into their religious rights, a newly constituted umbrella body of the community in Kozhikode has decided to move the Supreme Court seeking exemption from the minimum age limit of 18 years.
A meeting of the Kozhikode Muslim Personal Law Protection Committee comprising Muslim religious bodies resolved to take legal steps seeking exemption from marriage age restrictions for the community, a committee release said on Saturday.
It said the move for setting marriageable age for Muslim girls was a violation of Muslim Personal Law.
"Fixing marriage age for Muslims is an encroachment into the religious rights of the community and hence the state and Central government need to take suitable steps in this regard," said the committee whose convenor is IUML state secretary M C Mayin Haji.
The committee's decision comes in the backdrop of a raging debate over child marriage triggered by recent 'Arabi kalyanam' (Arab wedding) of a minor girl with a UAE resident.
The 17-year-old girl from Kozhikode, living in an orphanage, was forced into marriage, again bringing to focus the evil practice prevalent in parts of the state.
In June last, a government circular directing local bodies to register marriages of Muslim girls above the age of 16 years and men below 21 years kicked up a row in the state.
The government modified it later.
The committee's meeting, held on Friday, also expressed anxiety over attempts by certain corners to resort to inimical approach over steps taken for protecting the community's interest, the release said.
It was attended among others by representatives of various organisations including Samastha Kerala Jem-Iyyathul Ulama, Kerala Naduvathul Mujahideen, Naduvathul Mujahideen Kerala, Jamaat-e-Islami, Kerala state Jemeyyathul Ulama and Muslim Service Society.
Samastha secretary Kottamala Bappu Musaliyar is the chairman of the committee while Samastha Employees Association general secretary Mustafa Mundoopara is the coordinator.