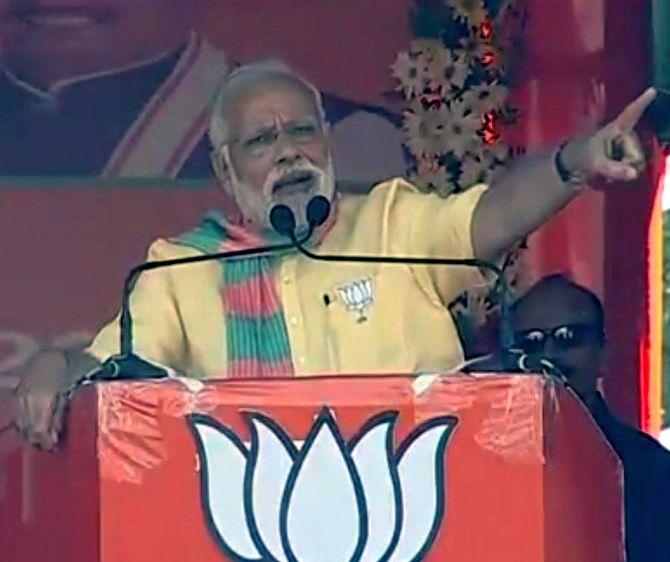 Mocking economists, Prime Minister Narendra Modi on Wednesday said that hard work is more powerful than Harvard as the latest GDP data shows demonetisation did not affect growth rate, rather the figures improved.
"On the one hand are those (critics of note ban) who talk of what people at Harvard say and on the other hand is a poor man's son who through his hard work is trying to improve the economy," he said at an election meeting in Uttar Pradesh's Maharajganj.
"In fact, hard work is much more powerful than Harvard," he said without elaborating.
His remark came against the backdrop of Professor of Economics and Philosophy at Harvard University and Nobel Laureate Amartya Sen terming demonetisation as a "despotic action that has struck at the root of economy based on trust".
The government had on Tuesday pegged GDP growth at a higher-than-expected 7.1 per cent for 2016-17 despite the cash blues, which was higher than China's 6.8 per cent for Oct-Dec period of 2016, making India retain the tag of the world's fastest growing economy.
Coming back to electoral politics in Uttar Pradesh, Modi said that the electorate has already ensured Bharatiya Janata Party's victory in the first five phases and now they would give surplus votes as "gift and bonus" in the remaining two rounds.
"I request the voters of the state to give the rest of the two phases as bonus to the party. This is similar to the chillies and coriander leaves, which the vegetable seller gives to the buyer as bonus," he said drawing applause from the crowd.
A few days back the prime minister had spoken of the possibility of a hung assembly in the state, saying the Samajwadi Party and the Bahujan Samajwadi Party were waiting for such an opportunity for bargaining, prompting Chief Minister Akhilesh Yadav to comment that after dreaming of 300 plus seats, Modi was now talking about fractured verdict.
****
PM's jibe at Rahul over 'coconut juice' remark
Modi took a jibe at Congress leader Rahul Gandhi for his "coconut juice" and "potato factory" remarks.
"There is a Congress leader, and I want to pray for his long life...he recently went to Manipur to address an election rally. There he told farmers that he would extract juice from coconuts and send it to London. In fact, a coconut possesses water (and not juice) and it is grown in Kerala," he said.
"It is like setting up a potato factory," Modi said referring to Rahul Gandhi's earlier remarks that he wants to set up potato factories in Uttar Pradesh.
"Such a talented and far-sighted leader he is," Modi said, and asked Rahul as to what he exactly he wanted to do for UP.
Addressing a poll rally in Manipur on Tuesday, the Congress leader had reportedly said, "I would also want when someone drinks coconut juice in London and sees Made in Manipur written on it."
Rahul had earlier told farmers in Uttar Pradesh that "You all are demanding a potato factory in your area, but you should understand I am an opposition leader, I can put pressure on the government, but cannot take the decision. I cannot open a potato factory for farmers".