Driven by the Modi wave, the Bharatiya Janata Party on Saturday stormed to power in Uttar Pradesh after 14 years, securing three-fourths majority and demolishing rivals Samajwadi Party-Congress and the Bahujan Samaj Party in a keenly-contested assembly election.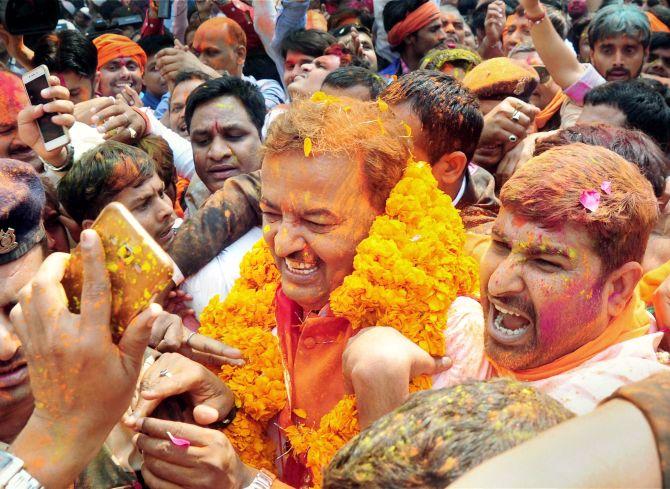 Showing astonishing performance, the BJP got 312 seats in the 403-member assembly.
Its allies Apna Dal (S) and Suheldev Bhartiya Samaj Party bagged nine seats and four seats, respectively, taking the total tally of the combine to 325.
On the other hand, the SP won 47 seats while its ally the Congress got seven seats. The BSP won just 19 seats, finishing a dismal third.
Significantly, the Congress lost all the four assembly seats in Amethi district, the pocket borough of the Gandhi family, with the BJP bagging three of them.
The BJP-led alliance swept all the eight assembly segments falling under Prime Minister Narendra Modi's Lok Sabha constituency Varanasi.
Saturday's results showed many prominent faces failing. The prominent among them were Aparna Yadav, younger daughter-in-law of SP patron Mulayam Singh Yadav, from Lucknow Cantt, ministers Arvind Singh Gope from Ramnagar and Pawan Pandey from Ayodhya.
Accepting defeat, Chief Minister Akhilesh Yadav said, "I hope the next government will work better than SP government."
Akhilesh, who is also the president of the Samajwadi Party, added at a press conference, "I accept the verdict of the people. I will do analysis at booth level."
He, however, said SP's alliance with the Congress will continue, claiming that 'we have been benefited' by it.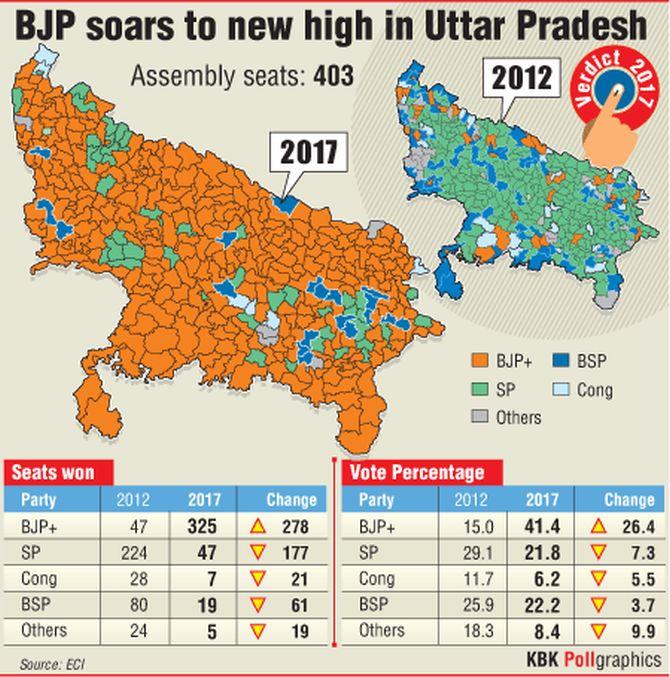 Asked to comment on BSP chief Mayawati's allegation about tampering of EVMs, Akhilesh said, "If questions have been raised on EVMs, the government should probe it."
Just before submitting his resignation, he suggested that the BJP had won by 'misleading' the voters.
"I think in a democracy you get vote not by 'samjhana' (convincing) but by 'behkana' (misguiding)," he said.
"In the entire elections, there were massive crowds in my rallies. Did people come only to watch? ... I did not expect such a thing will happen," Akhilesh said.
"The people might not have liked my expressway and they voted for the bullet train," the outgoing chief minister said.
On who will take the responsibility for the humiliating defeat of the SP, Akhilesh said since he himself is the party chief he will carry out an assessment to see who should be blamed.
A fuming Mayawati alleged that EVMs had been tampered with in such a way that whichever button was pressed, the vote went to the BJP.
Terming the results as 'shocking', she said the Election Commission should withhold the results and hold fresh polls using traditional paper ballots.
The EC, however, was quick to reject her claim of rigging and said her demand for a re-poll using ballot papers was legally untenable.
Notable among the winners are Pankaj Singh (Noida), who is son of Union Home Minister Rajnath Singh, Suresh Rana (Thana Bhawan) and Sangeet Singh Som (Sardhana) -- both accused in Muzaffarnagar riots, Rita Bahuguna Joshi (Lucknow Cantt), Swati Singh (Sarojini Nagar), Swami Prasad Maurya (Padrauna), Srikant Sharma (Mathura) -- all BJP.
Besides, other important faces who won are Akhilesh Yadav's feuding uncle Shivpal Yadav (Jaswantnagar-SP), senior UP minister Azam Khan and his son Abdullah Azam from Rampur and Suar seats respectively as also gangster-turned-MLA Mukhtar Ansari (BSP) from Mau.
Mriganka Singh (BJP-Shamli), daughter of Kairana MP Hukum Singh, lost as did speaker of UP assembly Mata Prasad Pandey from his home turf of Itwa.
Sitting MLA Rakesh Pratap Singh from SP retained his Gauriganj seat, defeating Congress nominee Mohammad Naeem by more than 26,000 votes.
BJP nominee Garima Singh polled 63,912 in Amethi defeating her nearest rival and tainted minister Gayatri Prasad Prajapati of Samajwadi Party who received 58,941 votes.
Samajwadi Party and Congress had joined hands for the assembly election but their candidates had contested against each other in some of the seats.
IMAGE: Uttar Pradesh BJP President Keshav Prasad Maurya joins in the celebrations at BJP office in Lucknow as the Modi wave sweeps the state. Photograph: PTI Photo