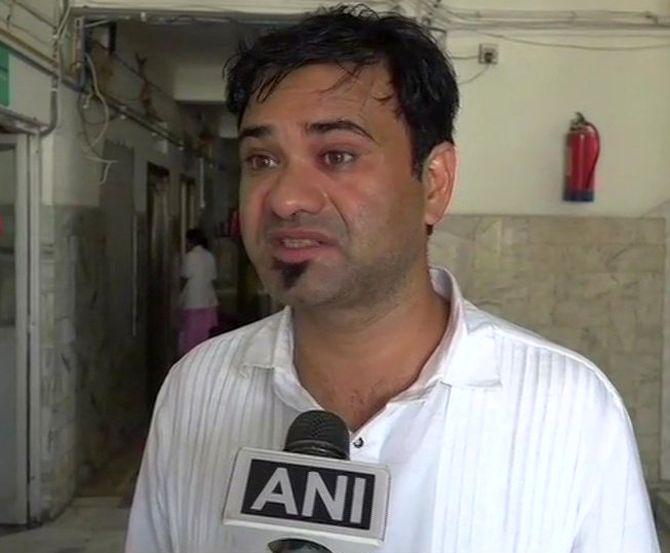 The brother of Dr Kafeel Khan, an accused in the BRD Medical College case involving the death of 63 children, was shot at allegedly by some unidentified bike-borne miscreants on Sunday night.
Kashif Jameel, 34, was rushed to a private nursing home where his condition was stated to be stable, the police said.
"Around 11 pm, in the Humayunpur north area near the JP hospital, some bike-borne miscreants shot at Kashif Jameel. He sustained injuries on his right upper arm, neck and chin," Kotwali police station Inspector Ghanshyam Tiwari said.
"He is undergoing treatment at a private hospital where his condition is stated to be stable. No complaint has been given so far," the officer said.
Meanwhile, Dr Kafeel Khan said he was not going to bend.
"Allah rahem kare. M not going to bend," Khan, who was jailed last September and was released on bail in April this year, said on Twitter.
"Firstly, I would like to thank all of you, as the bullets have been removed from my brother Kashif's body, and the operation has been successful. He is currently in ICU. Three bullets were shot at him in order to kill him. Who has fired, we do not know. But it was 500 metres from Gorakhnath Temple, where the UP Chief Minister was staying," he said.
He added that two boys came on a scooty, fired at his brother and fled.
"This is the state of law and order," Khan said, blaming the police for the delay in treatment.
In September 2017, UP Police arrested Khan.
Khan was the nodal officer of the 100-bed AES ward at the Baba Raghav Das Medical College and was removed following the deaths of 30 children on August 10 and August 11.
In April this year, the Allahabad high court granted him bail.
He is one of the nine accused in the case, involving the death of 63 children, including infants, in August 2017 within four days due to disruption in the supply of oxygen.