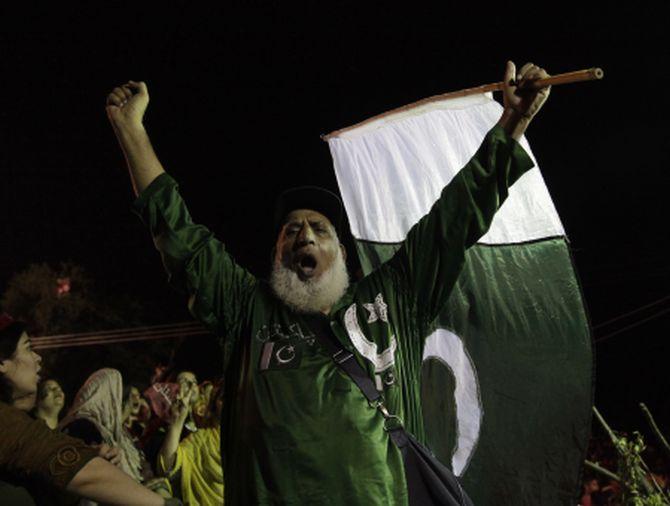 Opposition leader Imran Khan on Sunday again demanded that Pakistan Prime Minister Nawaz Sharif quit for 30 days to allow an independent probe into alleged rigging in last year's polls, hours after the government outrightly rejected the proposal to end the crippling political deadlock.
"We accept nothing less than Prime Minister Nawaz Sharif's resignation," Pakistan Tehreek-e-Insaf chief Khan told his supporters as they continued the siege of the parliament. With government rejecting the protesters' demand that Sharif step down, the political deadlock entered the 11th day on Sunday with no breakthrough yet.
The third round of talks between government negotiators and Khan-led PTI on Saturday night failed to break the logjam.
The PTI on Saturday proposed that the prime minister resign for a period of 30 days during which a judicial commission works "independently" to determine if the May, 2013 elections were transparent.
This demand though was rejected by the government, who said they had accepted almost all other demands of the PTI. The party has announced it will recommence its sit-in on Sunday evening with screens and mini-protests in other cities also.
After the meeting, Khan's chief negotiator Shah Mehmood Qureshi told reporters that if proven innocent Sharif can return to power. Government representative Ahsan Iqbal said the demand for resignation of the PM was not acceptable.
Thousands of supporters of cricketer-turned-politician Khan and firebrand cleric Tahir-ul Qadri continued to camp outside the Parliament building here as their protests entered the 11th day.
Pakistani media said government has suspended mobile phone services in the Red Zone in and around the National Assembly citing security reasons. There are also reports of fresh efforts to block arterial roads leading to the protest site to prevent supporters of Khan and Qadri reaching there.
Striking a defiant note, Khan said it was out of question to leave the capital without forcing Sharif to quit. "If it is proved after 30 days that everything was OK, you can return as the PM. But you are not willing to take us up on the offer. That is because you are afraid that you will be found out," Khan was quoted as saying by Express Tribune.
Using the cricketing terminology, he promised to contest till the "last ball".
Meanwhile, Punjab Chief Minister and the premier's brother Shahbaz Sharif denied reports that the Pakistan Muslim League- Nawaz government was considering his resignation as a means to end the political crisis.
Punjab Law Minister Rana Mashhood categorically rejected the reports that the option of Shahbaz Sharif's resignation was under consideration, Dawn reported.
On Saturday, embattled Premier Sharif received a boost when former President Asif Ali Zardari met him at his residence in Lahore to discuss the crisis and pledged to "protect democracy".
Briefing journalists, Finance Minister Ishaq Dar said Zardari had assured his full support to Sharif in resolving the crisis within the limits of the constitution and law.
Image: A supporter of Imran Khan, cricketer-turned-opposition politician and chairman of the Pakistan Tehreek-e-Insaf, gestures holding a national flag while chanting slogans. Photograph: Faisal Mahmood/Reuters