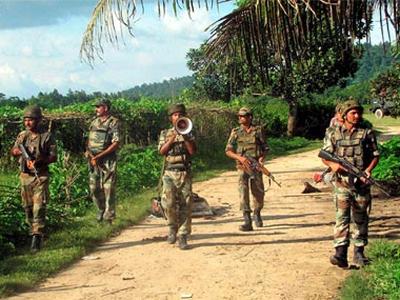 The joint operation group of the Unified Command structure reviewed security scenario in the four Bodoland Territorial Area Districts in view of the Bodoland Territorial Council polls scheduled on April 8, a defence spokesman said on Friday.
Situation in the BTAD districts of Kokrajhar, Chirang, Baksa and Udalguri was reviewed at a meeting chaired by GOC 4 Corps Lt Gen Sarath Chand at Kokrajhar on Thursday.
The meeting, attended by Assam's Additional DGP (Law & Order) R M Singh along with Deputy Commissioners and SPs of the four districts, discussed security plans to ensure that BTAD remains peaceful in the run-up and during the polls.
Though the security situation in BTAD remains volatile in view of the elections but it is hoped that continuous operations against NDFB(S) would ensure that peace in the region is not disturbed, the spokesman said.
However, due to increased participation, there was a possibility of some kind of violence and ethnic clashes.
This year the candidates contesting for 40 constituencies of BTC have increased from 149 in 2010 to 316, an increase of almost 51%.
There are 46 constituencies in the BTC but elections will be held in 40 seats with the Assam Governor nominating six members to the council from the unrepresented communities.
Besides reviewing the security situation in BTAD, an overall analysis of security situation in Lower Assam was also discussed and an action plan was chalked out to deal with terrorist activities.
The BTC comprising four districts of Assam-Kokrajhar, Chirang, Baksa and Udalguri came into existence in 2003 as part of signing of a MoU between the Centre, the state government and the Bodo Liberation Tigers.
Elections were held to the council for the first time in 2003 and the Bodoland Peoples Front led by Hagrama Mohilary won. The party returned to power again in 2010.
The state government has declared a public holiday on April 8 on polling day and the date of counting has been fixed on April 11.
Khagen Sharma, Director General of Assam Police, has asserted that designs by any quarter to create trouble during the BTC election would be foiled effectively.
Some political and apolitical organisations including All Bodo Students' Union and Sanmilita Janagosthiya Sangram Samity have demanded seizure of all illegal weapons available in the volatile Bodoland areas before the April 8 election so that people can
vote without fear.
The district administration has so far collected 578 licensed arms as a precautionary measure.

Additional Inputs: PTI