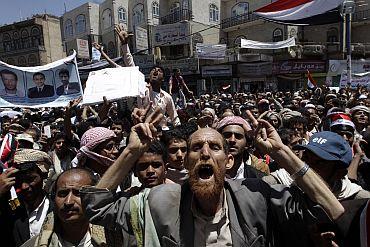 A showdown between the embattled United States-backed president and the opposition, escalated in Yemen on Wednesday as the country's parliament dominated by supporters of Ali Abdullah Saleh approved a sweeping state of emergency giving him new powers to quash a popular uprising.
The new month-long emergency law suspended the strife-torn nation's constitution, allows media censorship, bars street protests and give security agencies overriding powers to arrest and detain suspects without judicial process.


The evoking of emergency clause was a certainty as Saleh supporters dominated the 301 member legislature but, even then the enactment came under chaotic scenes, media reports said.
The opposition lawmakers as well as dozens of members of Saleh's own General People's Congress stayed away from the stormy session.
Later, officials said that 164 members present had voted for imposing emergency. The youth leaders leading the protest movement at Sanaa Square dismissed the latest move by President Saleh and said nothing short of his ouster was acceptable to them.
The imposition of emergency in the violence-hit nation comes amid growing confrontation between big elements of the army, tribal chiefs, lawmakers, politicians and diplomats who have joined together to demand that Saleh who has been running the country for the last 32-years stepped down.
Rival factions of the army has deployed tanks in the capital to confront Saleh's ultra-loyal Republican Guards led by his son Ahmed. The confrontation in the country already ripped by Shia uprising in the north and an upsurge of Al Qaeda in the south reached a boiling point after regime soldiers gunned down 52 anti-Saleh protesters in Sanaa University on Friday.
The opposition has been bolstered by Monday's defections of three army generals. The country's main tribal leaders, diplomats, provincial governors and newspaper editors have also joined the opposition.
The turmoil has raised alarm in Washington which has heavily backed Saleh to wage a campaign against Al Qaeda wing that has plotted against the US.
Image: Anti-government protesters shout slogans during a rally to demand the ouster of Yemen's President Ali Abdullah Saleh outside Sanaa
Photograph: Ammar Awad/Reuters