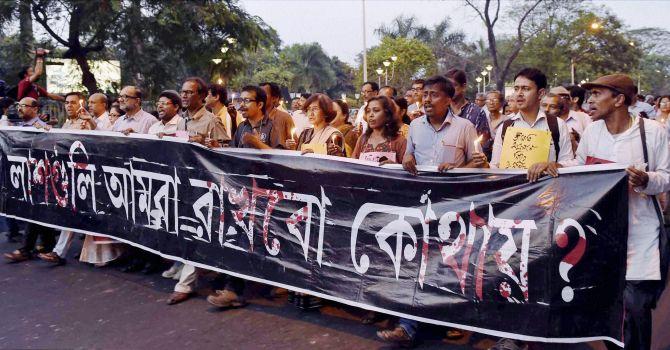 The UN on Friday called on Bangladesh to initiate steps for preventing violence against writers and activists, including providing physical protection to potential targets, in the wake of the killing of a secular blogger in the country.
The UN Special Rapporteurs on freedom of expression and extra judicial executions, David Kaye and Christof Heyns condemned the killing of 40-year-old secular Bangladeshi blogger Niloy Chakrabarty Neel by machete-wielding Islamists on Friday.
"The violent killing of another critical voice in Bangladesh shows that serious threats to freedom of expression persist in the country. It is vital to ensure the identification of those responsible for this and the previous horrendous crimes," the experts said in a statement.
Neel's murder is the fourth such brutal attack in the country. Machete-wielding masked men had in May hacked to death 33-year-old Ananta Bijoy Das, a secular blogger, in Sylhet city.
Assailants in February had killed 45-year-old Avijit Roy, a Bangladesh-born US national, while his wife narrowly escaped the attack.
A month after Roy's killing, another blogger Washiqur Rahman was murdered in similar fashion in Dhaka.
The Special Rapporteurs, independent experts appointed by the UN Human Rights Council, called for a "prompt and thorough investigation" into the killing of Neel.
The organized targeting of critical voices promotes a "culture of silence and fear" which has a ripple effect on society as a whole, the experts observed.
"The Bangladeshi authorities must not only continue to strongly condemn these horrendous acts against freedom of expression, but should also ensure that their words are followed by more effective efforts to ensure greater accountability and prevent this kind of violence," the Special Rapporteurs said.
The experts asked the Bangladesh government "to consider specific initiatives to prevent the recurrence of attacks against writers and activists".
"This should include not only the provision of particular physical protections to those who are potential targets for violence, but also open public debate challenging extremist views of all kinds," they added.