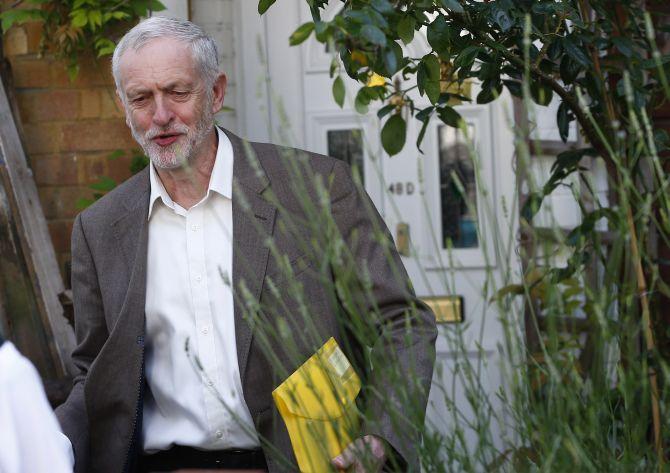 The United Kingdom's embattled opposition leader, Jeremy Corbyn, on Tuesday lost a no-confidence motion brought against him by his Labour party MPs in the wake of UK's shock Brexit vote.
The 172-40 vote, which is not binding, follows a raft of resignations from the shadow cabinet and calls on Corbyn to quit.
However, the leader's allies have said that he will not resign despite facing a mass walkout from his shadow cabinet and told his critics to trigger a formal leadership contest if they want to challenge him.
"I couldn't believe the strength of feeling, the overwhelming rejection of Jeremy as our leader, and the pleading with him that he should consider his position and go with dignity," said Dame Margaret Hodge, one of the MPs who had tabled the no-confidence motion soon after the UK voted to leave the European Union last week in a historic referendum.
Corbyn, 67, faced calls to resign at a stormy meeting in the House of Commons on Monday after more than 20 members of his shadow cabinet and a similar number of junior ministers walked out, questioning his performance during the EU referendum and ability to lead the party.
In a response to the no confidence vote, Jeremy Corbyn has issued the statement saying, "In Thursday's referendum, a narrow majority voted to Leave, but two thirds of Labour supporters backed our call for a Remain vote."
"The government is in disarray. Ministers have made it clear (that) they have no exit plan, but are determined to make working people pay with a new round of cuts and tax rises. The Labour has the responsibility to give a lead where the government will not. We need to bring people together, hold the government to account, oppose austerity and set out a path to exit that will protect jobs and incomes," he said.
"To do that we need to stand together. Since I was elected leader of our party nine months ago, we have repeatedly defeated the government over its attacks on living standards," he added.
"MPs don't choose the leader of the Labour Party, the party does. I think it is really sad that colleagues have chosen to stage this three-ring circus because they don't want to have a leadership election because they are not certain of winning a leadership election. The way to resolve this is to have a leadership election," said Dianne Abbot, newly promoted as shadow health secretary and one of Corbyn's closest allies.
Corbyn told grassroots supporters from the Momentum campaign group who staged a rally in his support outside Parliament on Monday to stand up for the causes they believed in.
"Don't let the media divide us; don't let those people who wish us ill divide us. Stay together, strong and united, for the kind of world we want to live in," he said.
He has continued to remain defiant since the crisis was triggered within the party over the weekend with the sacking of Hilary Benn, former shadow foreign secretary.
He was elected as Labour party leader last September in a landslide of Labour members and supporters.
Image: The leader of Britain's opposition Labour party, Jeremy Corbyn, leaves his home in London, Britain. Photograph: Neil Hall/Reuters