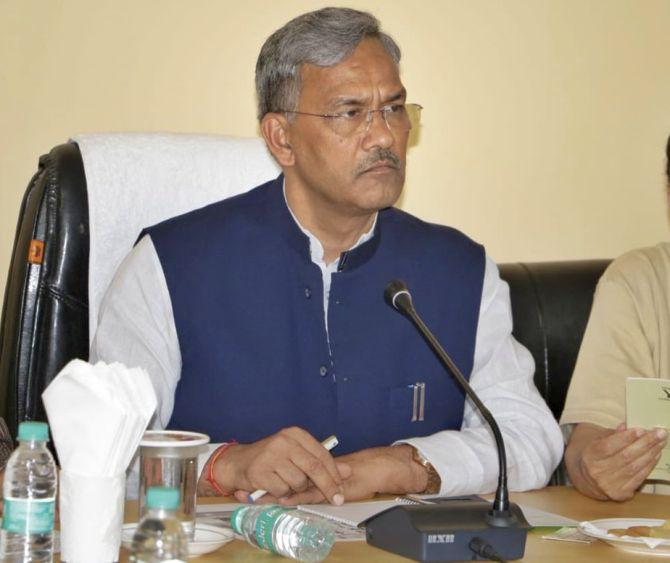 Uttarakhand Chief Minister Trivendra Singh Rawat has ordered the arrest and suspension of a primary school principal after she allegedly used abusive language in front of him on Dehradun.
Government sources said that the principal was briefly detained and suspended.
The incident happened on Thursday at the Janata Darbar of the chief minister when the principal of a government school in Nagaon area of Uttarkashi district made a transfer request.
According to government release, principal Uttara Bahuguna "showed disrespect and used abusive language" during the Janata Darbar. She was told to put forward her request in a decent manner but she kept on misbehaving.
Bahuguna had requested the CM that she be transferred from the remote location.
Her claim was that she has been posted in remote locations for the last 25 years and she now wanted to live with her children.
WATCH: Woman teacher abuses Uttarakhand CM, arrested
On being asked by Rawat if she had given any undertaking while securing the job, Bahuguna shot back that she had not stated "she will live in forest through out her life".
On this the chief minister lost his cool and asked her to put forward her request in decent manner but she kept on "showing disrespect", the release said.
The woman said that her husband had died and she did not want to leave her children as "orphans in Dehradun".
"My condition is such that neither can I leave my children alone nor my job," Bahuguna said.
After the incident, Rawat said that request for transfers must not be brought to a platform meant for hearing public grievances.
"All transfers of government employees will be done under the state's Transfer Act," he said.