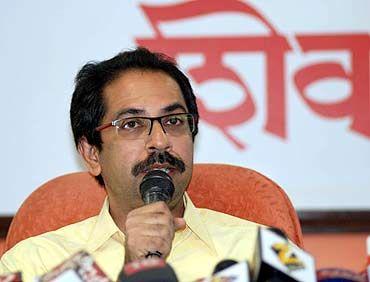 Amid an outrage over Shiv Sena MPs force-feeding a Muslim catering worker fasting during Ramzan, its president Uddhav Thackeray on Wednesday said the uproar over the incident was an attempt to "silence" his party's voice.
He, however, said despite being a votary of Hindutva, Shiv Sena had no hatred for other religions.
"This (uproar over the incident) is an attempt to silence Shiv Sena's voice. We are proponents of Hindutva but we don't have hatred for other religions," Uddhav told reporters in Aurangabad.
There was uproar in Parliament after video footage showed a Shiv Sena MP purportedly thrusting chapati into the mouth of a Muslim catering worker at Maharashtra Sadan in Delhi last week. They were reportedly angry over not being served Maharashtrian food.
Image: Shiv Sena chief Uddhav Thackeray