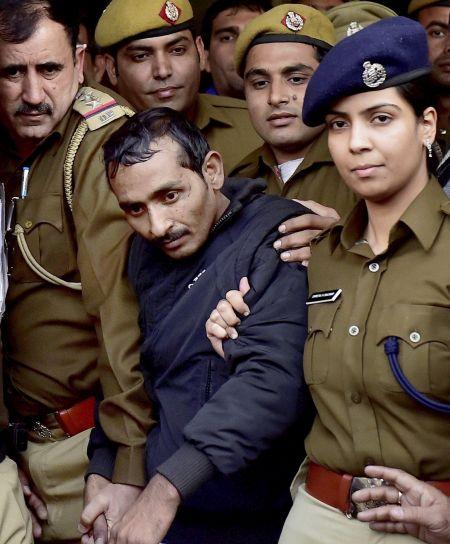 Police escort rape accused taxi driver Shiv Kumar Yadav after the court remanded him to three days in police custody. Photograph: Kamal Kishore/PTI photo
The Uber cab driver, who had allegedly raped a 27-year-old woman in Delhi on Friday night in his taxi, was planning to flee to Nepal before the police arrested him in the nick of time from Mathura in Uttar Pradesh.
The accused, identified as Shiv Kumar Yadav, had married his own widowed sister-in-law and had told her and his stepson to be ready with the baggage.
"He had purchased a new mobile phone and SIM card in Mathura and was in touch with them through that. He had told them that he had had an altercation with someone and they were trying to implicate him in a false case so they should leave their rented accommodation in Chandrapuri locality of Mathura. He was collecting money to either flee to Nepal or Gorakhpur," said a senior police official.
Yadav was using three mobile phones and the police will take him to Meerut to recover the smartphone which had the Uber App used in the crime. During his three days in police custody, investigators will try and determine whether he victimised his other female customers as well.
"He has been driving taxi in the national capital for the last several years. He was with Uber during the last six months. We would thoroughly check whether he was involved in any other crime," he said.
Senior police officials also said that they are now going to run a check with all the radio taxi services in the national capital whether they follow proper guidelines in plying of their taxi services like a mandatory GPS tracker and drivers who have been verified by the police.
The Delhi police will also recreate the entire sequence of events that took place on Friday night and also take Yadav on the route he had taken to drop the victim. The victim had boarded the cab around 10:58 pm from Vasant Vihar area. The car moved towards R K Puram Block-I and then drove towards Motibagh before taking a left and going toward
Delhi Cantonment area. He took the road towards NarainaVillage moving towards Mayapuri, then to RajouriGarden, Moti Nagar, Punjabi Bagh, Tri Nagar and Daya Basti, the police said.
"He had parked his cab at a garbage dump near Najafgarh drain where he raped the victim," Deputy Commissioner of Police (North) Madhur Verma said. The victim made a PCR call at 1:16 am and the PCR personnel informed the nearest police post at 1:24 am.
At 1:31 am, the police personnel reached the victim's house. The girl was taken for a medical examination and counseled by an non-governmental organisation. All this was over by 2:20 am.
Soon after the incident, the driver exited the Uber APP and drove straight to Mathura where he abandoned the car. The police brought the car to Delhi and a CFSL team has been roped in to conduct the examination of the car to lift circumstantial and forensic evidence.
Sources said the accused driver, during his interrogation, also confessed to the crime.
The police have found that he has two driving licences, the commercial one was issued in Delhi while the other one in Uttar Pradesh. He, however, did not have a PSV badge. He was living in Deoli area of Southeast Delhi since 2011.
"He had been living with his nephew. He had a friend named Vimal living in the same area whose house he frequently visited," said a police official.
The Delhi police top brass has asked officials from the North district to file a charge sheet in the case within three weeks. The Delhi police had made a decision to file a charge sheet in rape cases within 20 days, after the infamous December 16 rape case of 2012.
The Delhi police had filed the charge sheet in that case in just 17 days of the incident. A team, led by Additional Deputy Commissioner of Police Brijendra Singh, has been assigned the task. Brijendra Singh will be assisted by Assistant Commissioner of Police Shweta Singh and investigating officer Inspector Anil Dureja.
The 'character certificate' purportedly issued in the name of an additional deputy commissioner of police of the Delhi force in August this year to the driver has also given a new twist to the case on Monday as Delhi police commissioner termed it as a fake and ordered an inquiry into it.
The alleged certificate, which was doing the rounds on the Internet and widely quoted on TV reports gave a clean chit to the accused Shiv Kumar Yadav, who was also accused in a similar rape case in 2011 and had even spent seven months in Tihar jail. He was later acquitted in the case.
The certificate was issued with the signature of an additional deputy commissioner of police (Southeast) in August this year, saying Yadav was not involved in any criminal case as per the records of Ambedkar Nagar police station.
The police suspect that the certificate was forged by Yadav or he may have procured it from somewhere and submitted to Uber to get him and his cab attached to the company.
Delhi Police Commissioner B S Bassi told reporters that on the date and place mentioned in the certificate, the officer was not posted there.
"I would like to inform you that we have got information that the date on which the said certificate was issued, the officer, whose signature are on the certificate, was not posted there.
"So, prima facie this antecedent's verification certificate is fake. An FIR has been registered to ensure a proper inquiry is carried out into the matter of forgery and cheating on the basis of the certificate," he said.
DCP (Southeast) Mandeep Singh Randhawa has been asked to probe the matter and give a report in this connection by Bassi.
Asked whether people will raise fingers at Delhi police, which has been accusing Uber of flouting norms, Bassi said, "I don't go by what is being said by others. We are conducting an investigation, our investigation... and in our investigation if we find people at fault, action will be taken," he said.
Yadav, who was driving the Uber cab, allegedly raped the woman around 9:30 pm on Friday when the victim, who works for a finance company in Gurgaon, was heading back home in north Delhi's Inderlok area.
After a massive search, involving 12 Delhi police teams, in Mathura and other parts of Uttar Pradesh, Yadav was arrested on Sunday evening and brought to Delhi. He was produced in a local court which sent him to three days police custody for interrogation and recovery of a mobile phone.