Went out to buy ice cream. Businessman turned militant returns home dead.
Umar Ganie reports from Srinagar.
'Dear Aaqib, How can I reveal the traumatised situation which we have been going through since you left home?'
Ghulamudin Dar, a resident of Srinagar, published this emotional appeal in a local newspaper to his son Aqib, who disappeared suddenly on June 27, the second day of Eid.
Aaqib told his family he was going out to buy ice cream.
Thirteen days after his disappearance, Aaqib returned home dead on Wednesday, July 12.
Aaqib was killed in an encounter with the security forces along with two associates, Javaid Ahmad Sheikh and Sajid Ahmad Gilkar, at Radbug in Budgam district, central Kashmir, on Tuesday night.
Aaqib, 24, an engineering college dropout, had returned to the Kashmir valley to start a business.
Aaqib, who hailed from a well-off family, set up a flourishing business at Nagam in Budgam, with his father's help.
Ghulamudin Dar is a government employee; Aaqib's brother studies abroad.
The family, who reside in an upmarket housing colony near Srinagar airport, had no idea that their youngest son would join the militants' ranks.
Before his sudden disappearance from home, Aaqib posted an apology to his family and friends on his Facebook page, which he later deactivated.
One of Aaqib's friends, who attended his funeral, described him as a "shy and introverted guy who would never harm a fly."
"Why would he join militancy if his business was flourishing? He had no reason to join militancy," the friend wondered, adding, "This question will haunt us and his family for life."
One weeping relative, speaking on condition of anonymity, alleged that Aaqib had been detained by the police last November on stone pelting charges.
"He was picked up at an ATM while he was withdrawing money. He was released a day later and was not charged by the police because he was innocent," the relative said.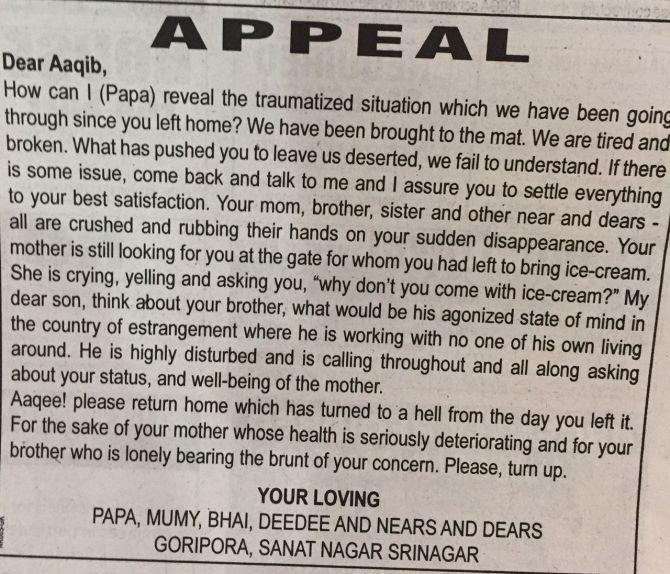 IMAGE: Ghulamudin Dar appealed to his son through a newspaper advertisement to return home. Photograph: Umar Ganie for Rediff.com
Aaqib had joined the Hizbul Mujahideen recently, a senior police officer said. A pistol and a rifle were recovered after he was slain.
The Rashtriya Rifles, the Jammu and Kashmir police's special operations group and the Central Reserve Police Force launched a joint operation in Radbug village around 6 pm on Tuesday, July 11.
Hours later, Aaqib, Sheikh and Gilkar perished in the firefight.