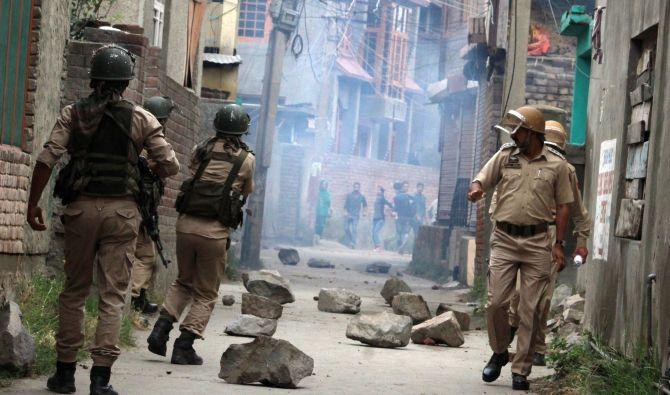 IMAGE: Policemen fire tear gas shells to disperse stone pelting youth during the funeral of Hizbul Mujahideen terrorist Aaqib Gul who was killed in an encounter in Budgam on Wednesday. Photograph: Umar Ganie

Three Hizbul Mujahideen terrorists were killed on Wednesday in an encounter with security forces in central Kashmir's Budgam district, police said.
Security forces launched a cordon and search operation in Redbugh area of Budgam on Tuesday evening after receiving specific intelligence inputs about the presence of terrorists in the area.
The search operation turned into an encounter as the search party of the security forces was fired upon by the terrorists.
The operation was halted for the night but the security forces maintained the cordon of the area to stop the terrorists from escaping.
The gun fight resumed on Wednesday morning.
"Three terrorists were killed this morning in the encounter and some weapons and ammunition were recovered from the spot," a police official said.
The gunned down terrorists have been identified as Aaqib Gul of Gooripora, Javaid Ahmad Shiekh of Beerwah and Sajid Ahmad Gilkar of Malaratta in old city.
Meanwhile, authorities on Wednesday imposed restrictions in several parts of the old city after Gilkar from downtown Malaratta was killed in the encounter.
Although police did not spell out the reason for the sudden restrictions in five police station areas of the old city, administration officials said they apprehended violent protests following the killing of Gilkar.
"Restrictions have been imposed in the police station areas of Maharajgunj, Safakadal, Rainawari, Nowhatta and Khanyar as a precautionary measure to maintain law and order," a police official said.
His body is lying in police control room and will be handed over to his family later in the day.