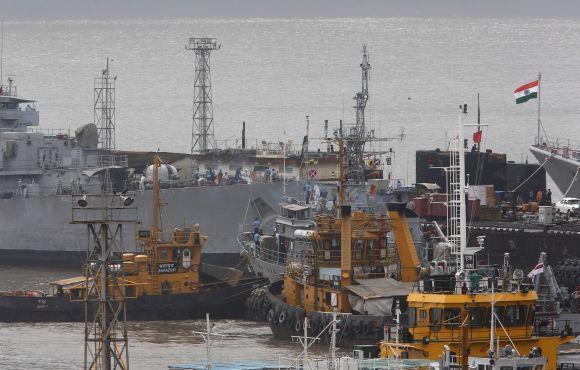 Fire brigade sources claim that apart from Indian Navy submarine INS Sindhurakshak, there were two other submarines at the naval dockyard at the time of fire on Tuesday night. After the explosion, one has been moved to deep sea, while the other has been moved away. Both the submarines had ammunition on board.
Casualties could be high, it is feared, since there were around 35 personnel on board each submarine. Early reports indicate that while many jumped to safety, 18 submariners are trapped within the submarine.
After the explosion, the twisted hatches have made rescue difficult. At least 18 stretchers were seen being taken inside the dockyard. The rescued injured have already been taken to the naval hospital at INS Ashwini. The Mumbai fire brigade's resources have been withdrawn from the site, and only the Navy's resources are being used to tackle the fire.
The three submarines were supposed to move out on Tuesday night for operations, which was why they were fully armed and staffed, sources said. Because the submarines were fully armed, fire brigade sources fear the toll could be higher. The navy has taken over the fire-fighting and rescue operations because of the weaponry onboard, handling and defusing which would need specialised involvement.

Former chief of naval staff Vishnu Bhagwat said, "It is a very sad accident and I do not wish to comment more on this. Unfortunately the kind of speculation that is going on shows certain lobbies are working overtime, which is being linked to the proposals to make more indigenous submarines. All I can say is, the official version is out, the navy has sent out a statement, the defence minister the spoken and we must learn to respect it."



Image: Ships and a submarine belonging to the Indian Navy are seen docked at the naval dockyard in Mumbai on Wednesday

Reuters: Danish Siddiqui/Reuters