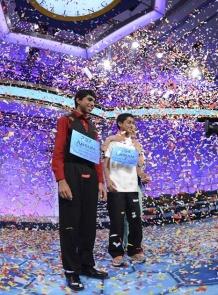 Two Indian-Americans -- Sriram J Hathwar and Ansun Sujoe -- have scripted history by becoming co-champions of the prestigious Scripps National Spelling Bee, the first since 1962. This is the seventh consecutive year that Indian-Americans have retained the Scripps National Spelling Bee, which was watched live by millions of people in the United States on Thursday night.
An eighth grader from the Alternative School for Maths and Science, Sriram, 14, is from New York, while Ansun, 13, is a seventh grader from Texas. In fact like last year, the last three contestants were Indian-Americans -- Sriram, Ansun and Gokul Venkatachalam from Missouri.
"It's a dream come true," Sriram said soon after being declared the co-champion with Ansun. "I was happy when I entered the final. I am even happier that I am the co-champion," said Ansun who correctly spelled "feuilleton" in the last 22nd round.
And in the 21st round Sriram correctly spelled "stichomythia." This was the fifth appearance for Sriram. Ansun and Sriram said they are happy to share the trophy.
"The competition was against the dictionary, not against each other," Sriram said. "Same here," Ansun said. The last co-champions were in 1962. Indian-origin people remain unchallenged in the Scripps National Spelling Bee since 2008, with Sameer Mishra winning it in 2008, Kavya Shivashankar (2009), Anamika Veeramani (2010), Sukanya Roy (2011), Snigdha Nandipati (2012) and Arvind Mahankali (2013).
This year, out of 12 finalists, six were of Indian origin. In addition to Sriram, Ansun and Gokul, the other three were Neha Konakalla, 14 from California; Tejas Muthusamy, 11, from Virginia and Ashwin Veeramani, 14, from Ohio. When not studying spelling, Sriram plays the oboe, piano and chess to keep his mind stimulated. He also enjoys more active pursuits including badminton, tennis and basketball. A seasoned traveler, Sriram has been all over the world, but he still has Japan, New Zealand, Switzerland, France and South Africa on his travel bucket list.
Because he has been to the Scripps National Spelling Bee four times already, Sriram once produced a TEDx talk about his experiences in the Bee. He previously competed in the Bee in 2008, 2009, 2011 when he tied for 6th place, and 2013 when he placed 3rd.
Ansun is making his second trip to the Scripps National Spelling Bee; he also participated in 2013. Musically gifted, Ansun not only plays piano, guitar and bassoon, he also has perfect pitch. He can instantaneously identify or sing any given musical note without a reference pitch.
Ansun also enjoys playing chess, solving complex math problems and programming robots. In his spare time, he ministers to seniors in nearby nursing homes.
Image: Ansun Sujoe (left) with Sriram J Hathwar at the contest. Photograph: Scripps National Spelling Bee's Facebook page.