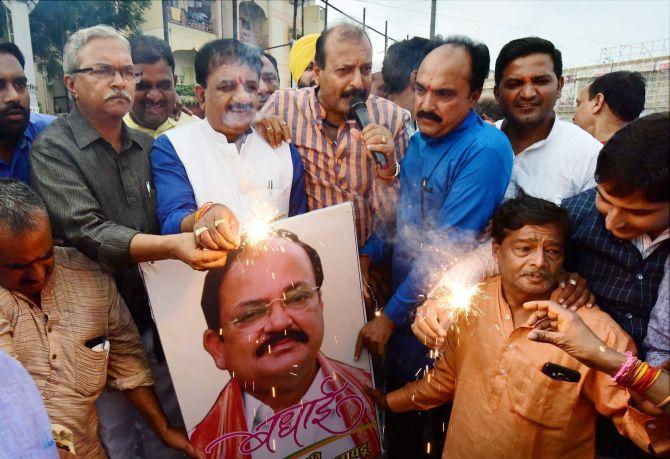 Nearly two dozen MPs of opposition parties defied their leadership and voted for the National Democratic Alliance's vice-presidential candidate M Venkaiah Naidu, Bharatiya Janata Party sources said on Saturday.
Naidu secured 516 votes against the pledged support of around 495.
With the former Union minister securing over 68 per cent of valid votes against 32 per cent of the opposition's candidate Gopalkrishna Gandhi, who received 244 votes, the margin between two contestants at 272 was higher than Gandhi's tally.
Outgoing Vice-President Hamid Ansari had prevailed over his rivals by 252 and 233 votes in 2012 and 2007 polls, respectively.
What should cause concern among the opposition, including the Congress, the Left and the Trinamool Congress, is that their candidate Gopalkrishna Gandhi got only 19 votes more than their presidential nominee Meira Kumar even though 40 more MPs had pledged support to him.
Kumar had received votes of 225 MPs, while Gandhi was supported by 244. President Ram Nath Kovind had received support of 522 MPs.
The Biju Janata Dal, which has 28 members in Parliament, and the Janata Dal-United with 12 MPs had switched over to the opposition camp after supporting the NDA in the presidential poll.
Despite desertion by 40 MPs, the NDA's vote count went down by only six, underlining major cross-voting in its favour.
In an electoral college of 785 eligible members, 771 votes were cast out of which 11 were declared invalid, according to officials.
Among the 14 members who could not cast their votes for a variety of reasons, four belonged to the Mamata Banerjee-led TMC, two each to the Bharatiya Janata Party, Congress and the Indian Union Muslim League, and one each to the Nationalist Congress Party and Pattali Makkal Katchi. One nominated and one Independent member also could not cast their votes.
Polling officials said this was the highest turnout in the vice-presidential election.
Before it, the highest number of votes in the poll was 759 in 2002 when BJP candidate Bhairon Singh Shekhawat had won the election.
IMAGE: Supporters of Vice President-elect Venkaiah Naidu in Bhopal celebrate his victory on Saturday. Photograph: PTI Photo