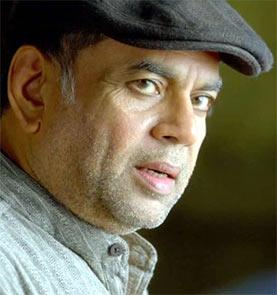 Hindi film veteran Paresh Rawal has provoked a storm after commenting on Twitter that writer Arundhati Roy should be tied to an army jeep, in a reference to the incident last month of the army in Kashmir strapping a protester to its vehicle as a 'human shield' against stone-throwers.
On Sunday, the Padma awardee tweeted, "Instead of tying stone pelter on the army jeep tie Arundhati Roy!"
His tweet soon became viral with over 4,700 retweets in less than 24 hours.
However, the reason behind the tweet, which came out of nowhere, is yet unknown.
His tweet received widespread condemnation with a few seeing it as an attempt to incite violence by an elected public representative. Senior Congress leader and former state unit chief for Goa, Digvijaya Singh reacted to the tweet as well: "@SirPareshRawal Why not the person who stitched PDP/BJP alliance?"
Senior journalist Sagarika Ghose reacted to the tweet (sarcastically, we may add) as well: "Wonderful sir, too good. You really are a model parliamentarian."
Another tweeted, "Am deeply moved by your empathy that brings every character to life in movies. But I'm shocked by your ability to be so violent with words!"
Arundhati Roy, an award-winning writer, is known for her controversial views on Kashmir. Her second novel, "The Ministry of Utmost Happiness", will come out next month, almost two decades after her first, "God of Small Things" - for which she won a Booker prize.