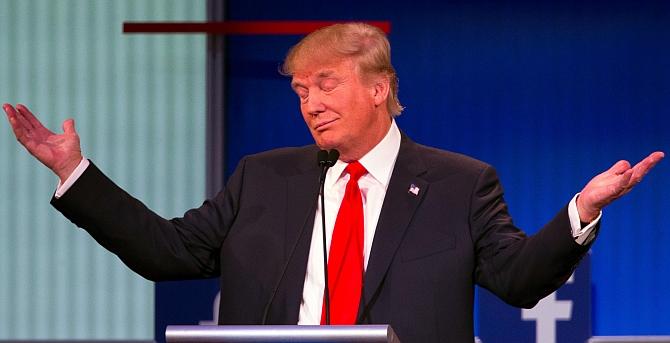 United States President Donald Trump has offered to mediate the crisis between Qatar and its Arab neighbours, saying their dispute could be solved 'fairly easily'.
Saudi Arabia, Bahrain, the United Arab Emirates and Egypt have accused Qatar of having ties with fundamentalist Islamist groups. In June, they announced they had cut diplomatic and economic ties with Qatar.
Qatar denies the accusations while Kuwait has emerged as a key mediator in the crisis.
"I think there is a chance that there could be peace. But again, I say that a little bit reluctantly. We're going to give it our best," Trump told reporters at a joint White House news conference with Kuwait's Emir Sabah Al-Ahmed Al-Jaber Al-Sabah on Thursday.
He said the dispute is something that's going to get solved 'fairly easily'.
"We have tremendous talent working on that particular transaction. As you know, David Friedman, the ambassador, is very much involved. We have a great group of people. We'll see what happens," he said in response to a question.
He said Israel and Palestinian are discussing to resolve the dispute along with the US.
"They say it is the world's most complex and difficult deal. You know that. But it is something that could happen. I believe that the relationships that we have with both can help. It's an event that's just never taken place," he added.
Responding to a question, Trump said he was willing to mediate between the disputing countries.
"I would be willing to be the mediator. I was telling the Emir before that if I can help between UAE and Saudi Arabia, where I have a very great relationship, I spoke with the King yesterday, King Salman, who is a friend of mine, and we spoke on unrelated subjects, but we had a long conversation," he said.
"If I can help mediate between Qatar and, in particular, the UAE and Saudi Arabia, I would be willing to do so. And I think you'd have a deal worked out very quickly," he added.
The US president said the crisis began because of the fact that there has been massive funding of terrorism by certain countries and he wants to stop that.
"What I want is I want to stop the funding of terrorism, and we're going to stop the funding of terrorism. And if they don't stop the funding of terrorism, I don't want them to come together. But I think they will," Trump said.
The Emir of Kuwait said the Gulf Countries have received a letter from Qatar stating that it is willing to sit down at the table and discuss all the demands, which the other parties have put down.
"We're talking about 13 demands, and I'm certain that all these certain demands, a great part of them will be resolved and the other and perhaps, we might not accept them because anything that effects sovereignty we would not accept. But we are very hopeful. We have great hope in our friends in the US that they will assist them to restore things to where they used to be," he said.
'Military action against North Korea an option, not inevitable'
Trump said military action against a defiant North Korea is certainly an option, but hoped that he does not have to use it.
Tensions have dramatically risen on the Korean peninsula after North Korea on Sunday conducted its biggest nuclear test, which its state-run KCNA news agency described it as a hydrogen bomb.
"Military action would certainly be an option. Is it inevitable? Nothing is inevitable. It would be great if something else could be worked out," he told reporters.
"We would have to look at all the details, all of the facts. But we've had presidents for 25 years now, they've been talking, talking, and the day after an agreement is reached, new work begins in North Korea, continuation on nuclear. So, I would prefer not going the route of the military, but it's something certainly that could happen," Trump said in response to a question.
Pyongyang in July conducted two long-range ballistic missile launches, followed by a medium-range over Japan, a US ally, in August. The US has responded to meet the challenge with 'fire and fury'.
Stressing that the US military is now stronger than ever, Trump said, 'Hopefully we're not going to have to use it on North Korea. If we do use it on North Korea, it will be a very sad day for North Korea'.
"I'm not negotiating with you. Maybe we'll have a chance to negotiate with somebody else, but I don't put my negotiations on the table. Unlike past administrations, I don't talk about them. But I can tell you that North Korea is behaving badly, and it's got to stop," he said.
Later, a senior Trump administration official said that North Korea is a 'global menace' and these latest provocations increase the international communities resolve to isolate the North Korean regime through strict enforcement of existing UN security council resolutions and the imposition of new sanctions.
"We call on all nations to use every means of influence available to make clear to North Korea that further provocations are unacceptable and those who enable the regime must also be held accountable. Everyone needs to do more and all options are on the table. As President Trump mentioned just a short time ago military action is certainly an option," said the official, who spoke on condition of anonymity.
"We will not allow them to extort and threaten the world with these nuclear missile programs," said the senior administration official, adding that the US is coordinating very closely with its allies and partners and monitoring the situation.