With Donald Trump unable to make it, Modi settles for Brazilian President Jair Bolsonaro, reports R Rajagopalan.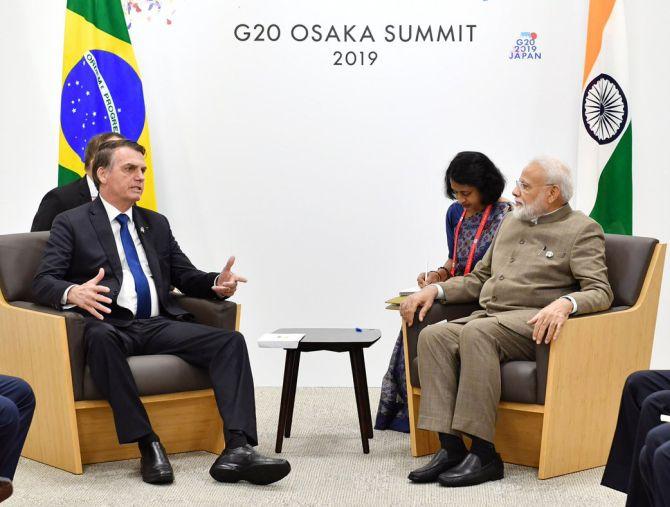 It is no secret that Prime Minister Narendra Damodardas Modi was very keen on having United States President Donald John Trump as the chief guest for India's 2020 Republic Day celebrations.
In fact, when Trump told the Howdy Modi event in Houston on September 22 that he would soon visit India, it was taken as a sign that he had accepted India's invitation to be the R-Day chief guest.
Domestic compulsions and a November election kept Delhi off Trump's travel itinerary, so India settled for the 'Trump of the Tropics' to do the honours.
Jair Bolsonaro, who took over as Brazil's president in January, will be the chief guest at Modi Sarkar 2's first Republic Day celebrations next year. The two sides are working on finalising what could be Bolsonaro's maiden trip to India as president, confirm individuals aware of the matter.
Modi handpicks the chief guest for the Republic Day parade, arguably India's highest honour for a visiting dignitary.
Being invited to be present at one of the momentous events in India's calendar is also an opportunity for the dignitary to strengthen bonds of economic and military cooperation. International geopolitics and strategic alliances also play an important role in the choice of Republic Day chief guest.
During his meetings with numerous world leaders in the past five years, Modi has become close to a few of them. Given his international political understanding, Modi -- with or without consulting the external affairs ministry and the protocol divisions -- takes a conscious decision about the R-Day chief guest.
While doing so, Modi discusses the pros and cons of inviting various leaders, but tends to remain uninfluenced by either the foreign secretary or dictates of foreign policy, and prefers to give it his personal touch.
The choice of the far-right Bolsonaro as chief guest is the result of India's diplomatic and economic stance combined with Modi's personal preference and sets the tone for the year to come.
While in his initial days in office gave rise to concerns about Bolsonaro's economic worldview, especially vis-à-vis international groupings like BRICS, he has subsequently dispelled misgivings in world capitals.
Brazil remains India's most important trading partner in Latin America, with bilateral trade amounting to $7.6 billion in 2017.
Modi and Bolsonaro were present at the Future Investment Initiative business forum meeting in Riyadh last week where they are believed to have enhanced their rapport. Brazil views Asia as a trade and investment partner and considers both China and India as gateways to the region.
In October Bolsonaro signalled his intention by dropping visa requirements for Indians and Chinese, a decision that went down well with South Block.
Bolsonaro would be the third Brazilian president to be invited for Republic Day celebrations. The first was Dr Fernando Henrique Cardoso in 1996 followed by Luiz Inacio 'Lula' da Silva in 2004.
All the five chief guests invited by Modi so far have been his handpicked choices. It was then US president Barack Obama in 2015 followed by then French president François Hollande in 2016.
In 2017 Crown Prince Sheikh Mohammed bin Zayed Al Nahyan of the UAE graced the occasion while 2018 saw leaders of all 10 ASEAN countries watch the marchpast on Janpath. This year the chief guest was President Cyril Ramaphosa of South Africa.
During Dr Manmohan Singh's 10-year reign, the PMO left the decision of R-Day invitees to the foreign office in contrast to predecessor Atal Bihari Vajpayee's preference for encouraging leaders of Muslim nations.
In Modi's case, he clearly wants it to be his and his choice only.