United States President-elect Donald Trump on Tuesday appointed his 35-year-old son-in-law Jared Kushner as his senior advisor that would make him one of the most powerful individuals in the incoming White House team, prompting Democrats to immediately call for a review of the move, citing nepotism laws and potential conflicts.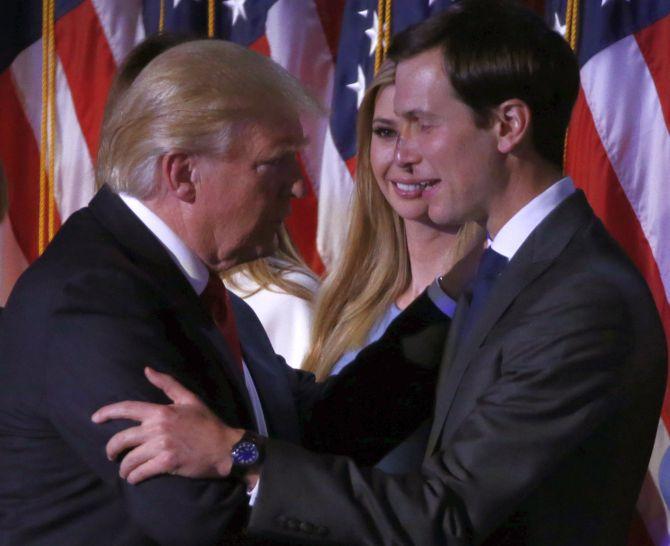 IMAGE: Jared Kushner along with his father-in-law and US president-elect Donald Trump. Photograph: Jonathan Ernst/Reuters
Kushner, who is married to Ivanka Trump, is a property developer with a wide range of business interests. He had played a key role in the presidential campaign and his new White House job will cover both domestic and foreign policy.
"Kushner has been a tremendous asset and trusted advisor throughout the campaign and transition and I am proud to have him in a key leadership role in my administration," Trump said in a statement ahead of his inauguration on January 20.
"He has been incredibly successful, in both business and now politics. He will be an invaluable member of my team as I set and execute an ambitious agenda, putting the American people first," said the President-elect.
"Kushner has chosen to forego his salary while serving in the administration," the Presidential Transition Team said in a statement.
The incoming White House Chief of Staff Reince Priebus said that Kushner is "a visionary with a rare ability" to communicate with and assemble broad coalitions of support.
"His entrepreneurial mindset will be a great asset to the team as well as his open mind, adaptability and keen intellect," he said.
Trump's transition team said there is no legal problem with having Jared Kushner serve in the White House because an anti-nepotism law enacted in 1967 does not apply to the president's staff.
"It is an honour to serve our country. I am energised by the shared passion of the President-elect and the American people and I am humbled by the opportunity to join this very talented team," Kushner said.
Kushner's appointment would put him in position to exert broad sway over both domestic and foreign policy, particularly Middle East issues and trade negotiations.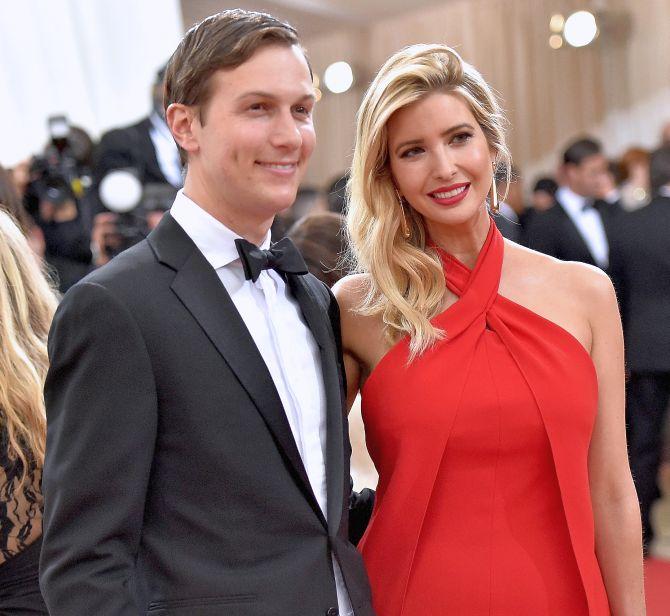 IMAGE: Kushner, who married Ivanka in 2009, will will be unpaid. The official transition team release stated 'Kushner has chosen to forego his salary while serving in the administration'. Photograph: Mike Coppola/Getty Images for People.com
Kushner plans to resign from the management positions he holds at his companies, including as CEO of Kushner Companies, publisher of The Observer and positions with other organisations, and will divest from a "significant number" of his assets to comply with government ethics rules, Kushner's attorney Jamie Gorelick said.
The outgoing Obama Administration said it is for the President-elect to choose his team.
"I'll let President-elect Trump select whomever he would like to have around him. Obviously that's what he will do.
What I can tell you is that President Obama and all of those of us who served on his senior staff here in the White House went to great lengths to comply with the strict ethical requirements that the American people expect of people who are entrusted with so much authority," said White House Press Secretary Josh Earnest.
Meanwhile, members of the House Judiciary Committee urged the Department of Justice and the Office of Government Ethics to step in.
"There is a strong case to be made that the White House is an "agency" for purposes of the anti-nepotism statute and that it would apply to bar Mr. Kushner's appointment as a White House staff member," wrote Rep. John Conyers, the House Judiciary Committee's ranking member, and other top Democrats on the committee, in a statement following Kushner's appointment.
"To begin with, Mr Kushner's appointment may run afoul of...the Federal anti-nepotism statute," the lawmakers said in a letter to the US Office of Government Ethics.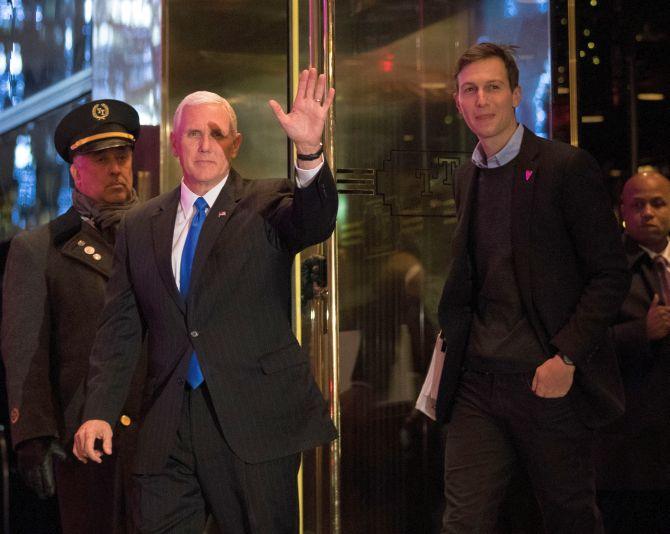 IMAGE: Vice President-elect Mike Pence and Jared Kushner exit Trump Tower. Photograph: Drew Angerer/Getty Images
Under that statute, a "public official may not appoint, employ, promote, advance, or advocate for appointment, employment, promotion, or advancement, in or to a civilian position in the agency in which he is serving" a relative.
The statute defines the term "public official" to include the President and defines the term "relative" to include a "son-in-law", they said.
The Democratic lawmakers alleged that Kushner's White House position may allow him to influence policy that benefits his business interests.
"In addition, should Mr Kushner choose not to be compensated for his role as a White House "senior adviser" in an attempt to circumvent both the anti-nepotism statute and the general prohibition on Executive Branch officials seeking to use their offices to enrich themselves, his appointment may violate the Anti-Deficiency Act," the letter said.
Meanwhile, Ivanka, the President-elect's daughter, is likely to simply retain the title of "first daughter" without taking on an official staff title, a transition official said.
US media reports said that it has not been decided yet whether the 35-year-old businesswoman and former fashion model will have a West Wing office and her specific portfolio likely will not be announced for a while.
Who is Jared Kushner
-- The 35-year-old investor, real estate developer, and newspaper publisher took over his family's company at 28, after his father Charles was sent to prison for illegal campaign donations, tax evasion, and witness tampering, according to the New York Times
-- At 25, Kushner purchased the New York Observer newspaper while interning at a private equity firm in New York, the Times reports
-- He owns 666 Fifth Avenue, a skyscraper a few blocks down from Trump Tower
-- Kushner married Ivanka Trump in 2009 in a lavish ceremony at her father's private golf club in Bedminster. She converted to Judaism shortly before their wedding