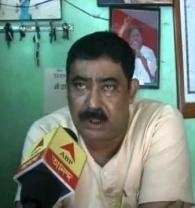 Congress MLA Rabindranath Chattopadhyay filed a written complaint at the Katwa police station on Saturday demanding immediate action as per law against Trinamool Congress leader Anubrata Mondal for threatening his party workers.
Chattopadhyay told PTI Mondal's statement has created panic among Congress workers and immediate action should be taken against him. He is the Congress MLA of Katwa.
Mondal, Birbhum district president of TMC and the party's observer for Burdwan, had on November 6 during a party programme in Katwa threatened to chop off the hands of Congress workers if they tried to damage hoardings of West Bengal Chief Minister Mamata Banerjee or TMC or its flags.
He had courted controversy during the last panchayat elections for his hate speech when he had asked party supporters to burn the houses of independent candidates (dissident Trinamool supporters) and hurl bombs at policemen if they went to rescue the candidates.
A day after Mandal's threat he was seen sharing dais during a press conference with TMC general secretary Mukul Roy and party's MP from Birbhum, Shatabdi Roy. The state Congress leadership has taken a strong note of Mandal's hate speech and urged the state Election Commission to take strong action against him.
State Congress President Pardip Bhattacharjee has said that such statements from a leader of a ruling party will instigate its workers against Congress activists during the upcoming civic polls in various parts of the state.
Image: TV grab of Trinamool Congress leader Anubrata Mandal