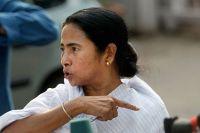 A minister who was with Mamata Banerjee when she and state Finance Minister Amit Mitra were targeted in Delhi by the Students Federation of India activists, on Wednesday alleged that the attack was aimed at killing the West Bengal chief minister.
"It was a ploy to kill Banerjee. Had Firhad Hakim not prevented an SFI supporter from attacking her with an iron rod she would have received fatal injuries," State Panchayat Minister Subrata Mukherjee said.
"The Delhi police totally failed to provide protection to our chief minister. They should have taken care of fool-proof security. The way SFI and Communist Party of India-Marxist supporters attacked us is shameful," said Mukherjee.
In Delhi, Trinamool MP Sukhendu Shekar Roy made a similar claim.