"The end of an era", "gave life to the phrase music is a universal language" and "a void that cannot be fulfilled", is how prominent personalities, led by President Ram Nath Kovind and Prime Minister Narendra Modi, mourned the passing away of singing icon Lata Mangeshkar on Sunday.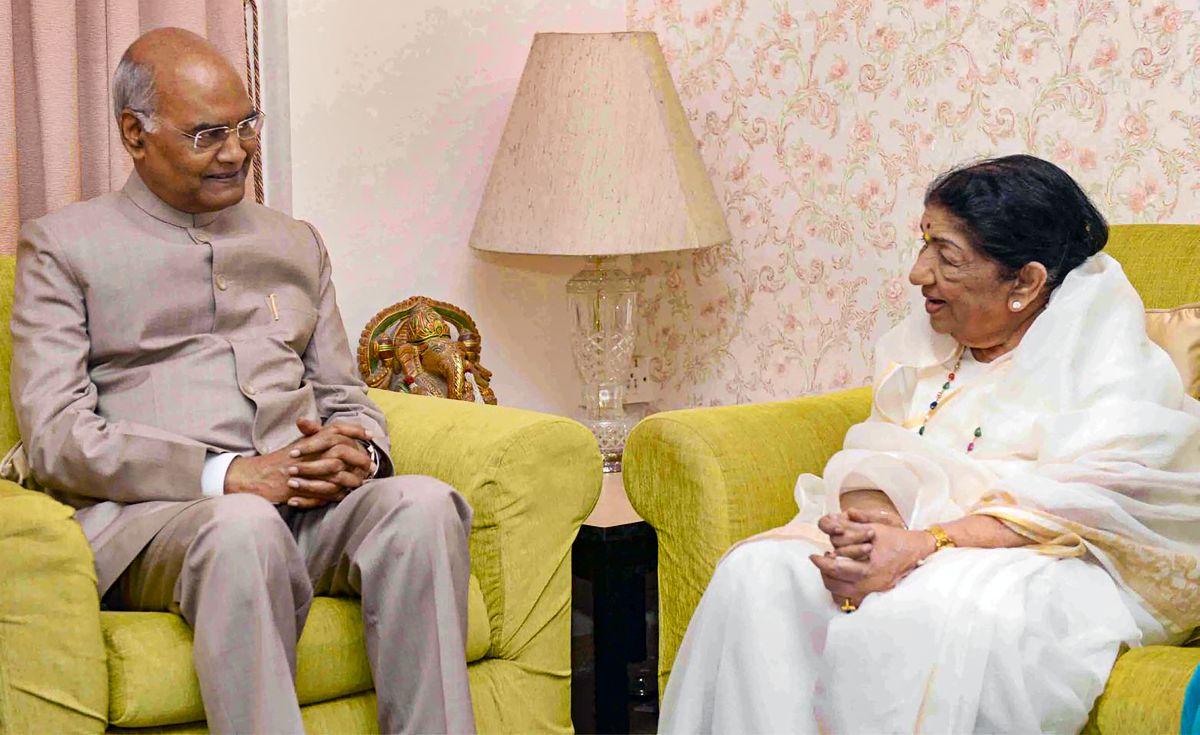 Lata-ji's demise is heart-breaking for me, as it is for millions the world over. In her vast range of songs, rendering the essence and beauty of India, generations found expression of their inner-most emotions. A Bharat Ratna, Lata-ji's accomplishments will remain incomparable. An artist born but once in centuries, Lata-didi was an exceptional human being, full of warmth, as I found whenever I met her. The divine voice has gone quiet forever but her melodies will remain immortal, echoing in eternity. My condolences to her family and admirers everywhere.
-- President Ram Nath Kovind
I am anguished beyond words. The kind and caring Lata Didi has left us. She leaves a void in our nation that cannot be filled. The coming generations will remember her as a stalwart of Indian culture, whose melodious voice had an unparalleled ability to mesmerise people. Lata Didi's songs brought out a variety of emotions. She closely witnessed the transitions of the Indian film world for decades. Beyond films, she was always passionate about India's growth. She always wanted to see a strong and developed India. I consider it my honour that I have always received immense affection from Lata Didi. My interactions with her will remain unforgettable. I grieve with my fellow Indians on the passing away of Lata Didi. Spoke to her family and expressed condolences. Om Shanti.
- Prime Minister Narendra Modi
I am extremely saddened by the demise of Lata Mangeshkar Ji, the Nightingale of Indian Cinema and legendary singer. India has lost its voice in the death of Lata ji, who has enthralled music lovers in India & across the globe with her mellifluous & sublime voice for many decades. She was truly a musical Ratna and had ruled the Hindi Cinema like a Queen for several decades. Her demise has left a void which cannot be filled. Lata Ji will continue to live in the hearts of millions of admirers through her timeless melodies. My deepest condolences to her family members and admirers in this hour of grief. Om Shanti!
- Vice President Venkaiah Naidu
Lata didi, with her melodious and mesmerising voice, has filled the lives of every generation not only in India but all over the world with the sweetness of Indian music. It is not possible to put into words her contribution to the music world.Her death is a personal loss for me. With her incomparable patriotism, sweet speech and gentleness, she will always be among us. I express my condolences to her family and countless fans. Om Shanti
- Home Minister Amit Shah
Received the sad news of Lata Mangeshkar ji's demise. She remained the most beloved voice of India for many decades. Her golden voice is immortal and will continue to echo in the hearts of her fans. My condolences to her family, friends and fans.
- Congress leader Rahul Gandhi
Rest In Peace Nightingale of #India, #LataMangeshkar. Thank you for the decades of entertainment that transcended borders & gave life to the phrase 'music is a universal language.' My deepest condolences to her family & the people of India. Her memory will live through her music
- Sri Lankan Prime Minister Mahinda Rajapaksa
It is sad that Lata Mangeshkar has left us physically. She was a symbol of motherly blessing. Her voice has brought alive all situations in everyone's lives. Her voice broke the barriers of language, region, caste, creed and religion. She will continue to live amongst us. She was an avid photographer and had the knowledge about good cameras and different lenses. We often discussed photography and she was present at my photo exhibitions to bless me. Recently when I was hospitalised, she enquired about my health
- Maharashtra Chief Minister Uddhav Thackeray
I pay my heart-felt tribute to the departed icon of India, Bharatratna Lata Mangeshkar. While offering my sincerest condolences to her family and the billions of admirers that she leaves behind all over the world, I express my deepest sadness at the demise of the genius that the Nightingale of India truly was. Like all her fans and followers across the planet, I was also mesmerized by her voice and renderings, and felt grateful that she held Bengal and the artistes of the East so dear to her heart and so integral to her magnificent world of music
- West Bengal Chief Minister Mamata Banerjee
Deeply pained to know that the Nightingale of India Lata Mangeshkar has passed away. With a career spanning eight decades she has touched the heart of every Indian with her mellifluous renditions in various languages. I convey my heartfelt condolences to her family and fans
- Tamil Nadu Chief Minister M K Stalin
The anguish and void that has come up not just in my heart but of every Indian with the death of Lata Didi is very hard to describe in words. May the Almighty give us all and Mangeshkar family the strength to bear this loss. I personally and on behalf of the RSS pay tributes to her
- RSS chief Mohan Bhagwat