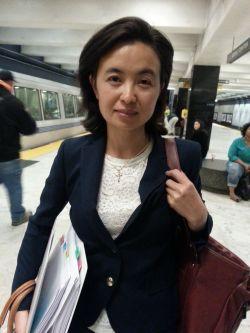 The criminal jury trail of Susan Su, founder of the Tri Valley University in California that harboured thousands of Indian students, entered a crucial phase on Wednesday with closing statements by both the plaintiff and defence lawyers.

The school had 1,760 students out of which 98 percent were Indians and was closed by federal agents on January 19, 2011 calling it a 'sham university'. The school opened in 2008 and in 2009 started enrolling foreign students.
The jury trial, which started on March 3, brought in several former TVU employees and students as well as special government agents to testify, mainly who have worked on the investigation since May 2010 -- eight months before the school was raided by the United States Immigration and Customs Enforcement.
Su reached court an hour late on Wednesday with an excuse that she did not sleep at night due to stress. She has been charged with 30 counts that include wire fraud, mail fraud, visa fraud and conspiracy to commit visa fraud, use of a false document, making false statements to a government agency, alien harbouring, unauthorised access to a government computer and money laundering.
Su garbed in off white suit, listened anxiously to the statements poured out by the Assistant US Attorney Hartley West calling her 'a smart woman who knew what she was doing'
"She lied...she is a fraud and she made a choice to lie from the day she filed the I-17 form that approves the school to admit foreign students," West said.

Making her statement strong to the jury, West said Su is very sophisticated. "You have heard about her degree, (she has earned a doctorate in mechanical engineering from the University of California, Berkeley) she is a smart woman. She signed certification, she understood everything and she made the choice to lie. She always lied. She made a choice to forge signatures".

"A designated school official (DSO) is not allowed to give access of computer to anyone, but she did. The students who come to the US to study has to rely on them (DSOs). They rely on what the DSO says. The DSO is very important, they are the gatekeepers," West pointed out.

"She also made choices where she sent emails making up F-1 of students and made a choice, this wasn't her trying the best to start a school. She could have denied. She made a choice again to lie on coming up with classes and forced students to stay for three semesters.

"She has been alien harbuoring and money laundering. In less than 2 years she generated more than $5 million. She was the one giving instructions and at very step of her process, she lied.

"She was inspired by money and she spent it on herself and not on school -- not to hire employees or DSO or to run a campus. Susan Su used the proceeds of crime, because she committed those crimes," West charged.

The packed courtroom, with US attorney officials and special agents, listened to the closing statements from each side. Some whispered, "Now is her time to be in jail".

Defence attorney Erick Babcock in his closing statements said there are reasonable doubts in all the charges made against Su and did not seem pleased with the trial witnesses brought in by the plaintiff side.
Babcock said, "The government took a long time to investigate, more than 6 months. They have the list of 1,760 students and talked to 900 students. Out of 900 students they talked to the best and they came out with just 8....is that justifying? That's only what they've got?"
"They have not proved anything. They showed a lot of documents and did long investigations, but where is the proof," asked attorney Babcock.

"Dr Susan Su built a scheme in 2008 they (plaintiff) say, but the truth is that she started the whole university from the scratch by herself. The scheme was not a fraud," he added.

Defending Su, he said she has a background in engineering and the courses she took; there was not a single class in law or education and not a single class in business or public administration that teaches to run a school from scratch. She has a degree from San Jose State, California and UC Berkeley. And yes, she was looking for people to teach classes.

"She asked former Prof Shy Shenq Liou from San Francisco State University whether he would be interested in teaching, though no one signed the contract, even some of her husband's friends. No one signed contract, she was taking steps and was in a process. She was not prepared. But she did lift the school from the ground up. It went up to 1,760 students in less than 2 years. Did she know the school will grow from a dozen to 1700? No, but she was planning to manage," he said.

Pointing to students, he said most of them transferred to TVU because it was cheap, compared to International Technological University in San Jose, California. "Where is the visa fraud," he asked.

He said the whole case rest on the I-17.

On giving Student and Exchange Visitor Information System access to students, he said she never gave access of login or password to students. They were her staff who she gave access to. She did that herself.

"Never in the SEVIS form it asked how many students do you plan to admit. It asked average annual of students you would enroll. It asked in 2008 when she applied for I-17 the number of average students and she said 30, and the average annual number of teacher 9. Where's the fraud here?" he argued.

"TVU was not a sham", said Parth Patel, a former TVU employee. He confirmed there were classes there.
"There were a lot of people trying to login, she did the best she could. But that does not mean she was a fraud, she was trying to make it better," Patel said.

Patel told Rediff.com after the testimony, "There is greed, but of a different kind. It's not really money, but power. She wanted to admit more and more students."

"She was a little crazy at times, would yell and I worked as a clerk. Each morning she would login and would give the computer to enter students' name. She used to asked me to maintain the status of students, even the expired F1," Patel, who just once taught at TVU virtual class, told to the court, adding he decided not to teach because he could not, though Su lured him.
Image: Susan Su, founder of Tri Valley University