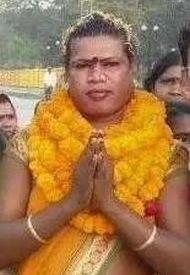 A transgender on Sunday scripted history by winning the mayor's election in Chhattisgarh's Raigarh municipal corporation, defeating his nearest rival from Bharatiya Janata Party.
Independent candidate Madhu Kinnar won the mayoral election of the Raigarh Municipal Corporation by 4,537 votes against BJP's Mahaveer Guruji, an election official said.
Madhu, 35, belonging to Dalit community, is the first eunuch to get elected as mayor in the state.
"People have shown faith in me. I consider this win as love and blessings of people for me. I'll put in my best efforts to accomplish their dreams," Madhu said after winning the election.
After studying up to eighth standard, Madhu, whose real name is Naresh Chauhan, took up different jobs and used to collect money by singing and dancing in trains.
"I only spent Rs 60,000-70,000 from my earnings during my campaign. It was the public support that encouraged me to enter the poll fray for the first time and because of their support only, I emerged as the winner," Madhu added.
The ruling BJP in the state had fielded Mahaveer Guruji for the election, denying ticket to its incumbent Mayor Mahendra Chauhatha, while Congress had shown confidence in Jethuram Manhar for the third time.
On Madhu's victory, the main Opposition, Congress, said that "it is BJP's loss, not Madhu's win."
"There was no Modi wave in Raigarh this time. People of Raigarh were fed up with the corruption of BJP, hence they voted for Madhu. It is not Madhu Kinnar's victory, but it's a loss of BJP," Raigarh district Congress (urban) president Narendra Negi said.
Accepting the defeat, the BJP said that they will review the people's mandate.