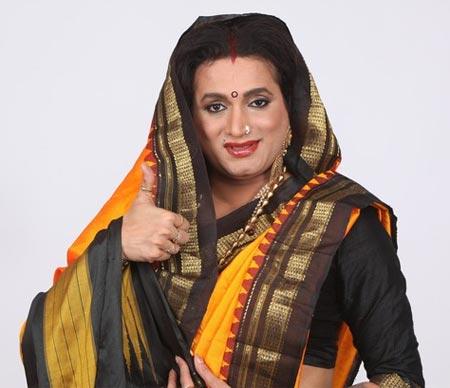 'Elect the eunuchs and they will prove their honesty in contrast to a practicing politician. Without any kith and kin, they can at least be a catalyst sorely needed for minimising, if not uprooting nepotism and favouritism that breeds corruption,' says Ram Ugrah.
What is common (aam) between Arvind Kejriwal's Aam Aadmi Party and the community of Kinnars recognised last week as a 'third gender' with full human rights enshrined in the Constitution by the Supreme Court on a petition filed by transgender activist Laxmi Narain Tripathi?
Like the AAP, corruption is the main plank of the Kinnars' political formation coming up very shortly.
The transgenders' foray into electoral politics will certainly reinforce the AAP's much-touted anti-corruption movement, claims Tripathi, the first hijra representative from Asia Pacific to the United Nations. 'We are going to float our own party for which an application for registration is pending before the Election Commission,' she says.
Like the AAP, the eunuchs' avowed aim is to grapple with corruption. It would be greatly advantageous to AAP's crusade.
The best bet for AAP would be to shake hands with the upcoming Kinnar party for garnering its support in electoral politics. 'We can do a better job than AAP and others in legislatures,' says Sonam Kinnar after filing her nomination in Amethi against Rahul Gandhi along with Kumar Vishwas and Smriti Irani. In Varanasi, a hijra named Kamala is contesting against the Bharatiya Janata Party's prime ministerial nominee Narendra Modi.
Undeniably, eunuchs by their sex-linked characteristics, could be a better alternative to today's much-maligned masculine and feminine ministers.
Give today's politician a free hand, s/he will put it in your pocket and take out the wallet. But elect the eunuchs, they will prove their honesty in contrast to a practicing politician.
Without any husband, wife, brother, sister, nephew, niece, son, daughter, sons-in-law, kith and kin, they can at least be a catalyst sorely needed for minimising, if not uprooting nepotism and favouritism that breeds corruption.
Democracy is based upon the conviction that there are extraordinary possibilities in ordinary people. So, the electorate has given its preference for eunuchs in the past -- Shabnam mausi as an MLA from Sohagpur (Madhya Pradesh) Ashadevi alias Amarnath Yadav as Gorakhpur mayor, Bijli as local body chief in Kamalganj and Prema as the Bisalpur ward member in Pilibhit has already triggered a curious sensation. Men and women in the corridors of power were taken unawares after the declaration of poll results.
'Our views and Kejriwal's are similar as both feel that all major political parties have disappointed the people,' say a majority of eunuchs at the hustings. Apart from Varanasi, Amethi and Rae Bareli, a number of eunuch candidates have been fielded elsewhere in the country -- Heera Bai, contesting from Jabalpur (North) on a Samajwadi Party ticket; Pooja, in Vishal Nagar (Durg), Mahendragarh Koriy (Chhattisgarh) and Barkha (Deoria).
Kamala, who is fighting Narendra Modi, tells voters, 'Nar dekha nari dekha is bar kinnar ki bari (You have voted for men and women, this time vote for a transgender)'.
'Hum dal badloo nahin hai (We don't change parties),' says Chandani who is in the Delhi civic poll fray.
The castrated male entity originally 'attendant in-charge of harem or palace' under the Oriental domestic system of polygamy are now euphoric about formation of a kinnar prakoshtha (eunuch cell) by some political parties. They have taken it as a god-send electoral gift.
Who knows that the fulminations of females and musings of males over the issue of 33 per cent seat reservation will not be followed by a brouhaha for another percent-wise representation for the sexually-undeveloped population of roughly over 2.6 million in Parliament?
The electoral victory of eunuchs is not without reason. A legend has it that their lot amongst the nar (man) and nari (woman) didn't go back to their homes and hearths after having bid adieu to Lord Ram on his vanavas from the outskirts of Ayodhya along the Saryu river.
When told about this on his return from his 14-year exile, Sri Ram is said to have blessed them and said they would rule the roost in Kalyug.
Image: Transgender activist Laxmi Narain Tripathi.
Ram Ugrah is a senior journalist based in Lucknow, and a former editor of The Times of India, Lucknow edition.