K R Narayanan was already a legend when I joined the University College in Thiruvananthapuram to sit in the same class rooms as he did. Stories about his extraordinary brilliance and his career, which broke many barriers, were heard in the corridors of his alma mater.
I had a clearer sense of his accomplishments, once I myself joined the Foreign Service and served in some of the places of his postings like Yangon, Tokyo and Washington. It was when I met him in 1980 in the United States that the man, rather than the legend, came alive in my consciousness and I encountered his intellectual brilliance, his Nehruvian vision and his extreme humility.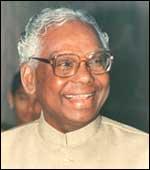 Narayanan's extraordinary achievements as a diplomat receded into the background when he entered politics and rose to the highest office of the land. But it should be remembered that he was chosen for two key assignments at the end of his diplomatic career, first in China and then in the United States. He was the one chosen to re-establish ambassadorial relations with China. We owe it to him that he laid the foundations of India's new relationship with China.
Having been chosen as ambassador to the United States at a crucial moment, he did pioneering work to set a new tone in bilateral relations. But the Indian position on the Soviet occupation of Afghanistan presented a severe challenge to his efforts. He worked hard to convince his hosts that India was opposed to the presence of foreign forces in any country and sought correctives in our own statements to help him fortify that position.
He was naturally outraged when the United States stopped the supply of fuel to Tarapur on the ground that all the nuclear installations in India were not under safeguards. In an uncharacteristically harsh statement, he pointed out that the United States had the right only to insist on placing Tarapur under safeguards, not the other installations. Like in human relationships, a contract with one does not apply to others similarly placed, he said.
Narayanan's tough speech upsets government
Narayanan's sense of humour was earthy, but subtle. I recall his conversation with a senior colleague, who wondered whether graying or balding was preferable as one grew old. "One consolation is that one can't do both at the same time," the graying Narayanan told his balding friend.
Once at the Massachusetts Institute of Technology, the mike failed when he rose to speak. He turned to me and said that if this had happened in Uzhavoor (his native village), Third World technology would have been blamed. Here it was just a systemic failure! I remembered his remark years later when a NASA telephone failed at the very moment when a conversation with Kalpana Chawla was set up for the Indian delegation, which had gone there to witness her first space journey. Nothing had happened to the link, but someone had pulled out the wire from the wall outlet.
My mother visited Rashtrapati Bhavan to witness an Arjuna award ceremony as my daughter-in-law Roopa Unnikrishnan was among the recipients. My brother T P Seetharam was the President's press secretary. In a short chat, Narayanan asked my mother where she lived. When she replied that she stayed with her doctor son in Pune, Narayanan said she was wise to live with her doctor son rather than with her two diplomat sons.
'Narayanan has done nothing for the Dalits. Why should he?'
The Appeal of Conscience Foundation chose to recognise Narayanan as the World Statesman of 1998. Dr Henry Kissinger persuaded Narayanan to accept the award. When we discovered that the Foundation was using the dinner in his honour to raise funds, we decided to alert the President. I asked my brother to gently broach the subject and seek his reaction. "Well, we have to accept American ways. It was a hundred dollars per plate when Panditji went there. It must be a thousand dollars now," he said, much to our relief.
An Interview with K R Narayanan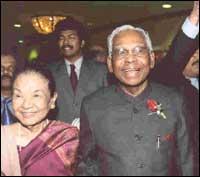 Narayanan was a nationalist and an internationalist, but that did not erase his Kerala identity. His homecomings to Kerala were memorable for him and for Keralites. His sister and brother kept away from Rashtrapati Bhavan, but the Rashtrapati came to see them often. On one occasion, he broke down when he recalled how his sister had to give up schooling to save resources for his education. She would have accomplished much, if she did not have to make that sacrifice, he said in a broken voice.
'He retained the simplicity of a rural boy'
Narayanan was a catalyst for the creation of the Federation of Kerala Associations of North America (FOKANA) to bring the Malayalees in the United States and Canada under one umbrella. FOKANA, now a strong association, is a monument to his thoughtfulness. He also readily agreed to be the chief patron of the Thiruvananthapuram University College Alumni Network even as the President of India. He gifted his home to the Shantigiri Ashram and it is now known that he had wanted that the priests from that Ashram should perform his last rites. No wonder Kerala treats him as one of its greatest sons. His picture occupied the whole front page of the Malayala Manorama newspaper on the day after his death.
In memoriam: Kocheril Raman Narayanan
Narayanan's journey from a humble cottage in Uzhavoor to Rashtrapati Bhavan in New Delhi was no less spectacular than that of Abraham Lincoln from the log cabin to the White House. Perhaps, it was even more sensational as Lincoln did not have to fight centuries of caste prejudices that Narayanan had to overcome. It is said that if the Maharaja of Travancore had not advised him to make a living outside his home state, he would not have reached the dizzy heights of political life. But a man of his talents and integrity would certainly have risen to great heights wherever he lived and worked. Life may be full of lucky and unlucky accidents, but when talent and good fortune meet, the right man reaches the right place at the right time.
Photographs: Rediff Archives