In a bid to promote Make In India defence systems, the Indian Navy will hold its senior commanders' conference on board the aircraft carrier INS Vikrant in the Arabian Sea, off the coast of Goa.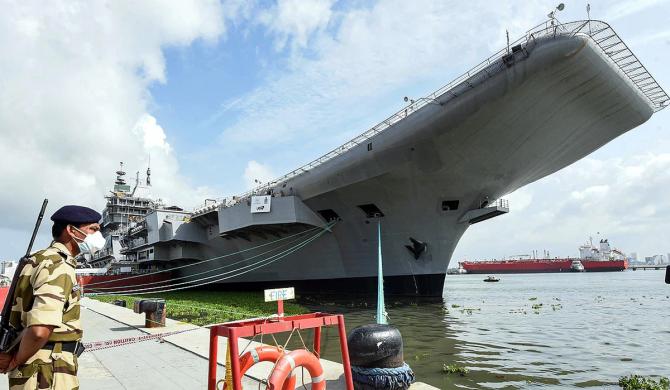 The decision is also in line with Prime Minister Narendra Modi's directives to organise major events outside Delhi, after which Navy chief Admiral R Hari Kumar and the naval headquarters decided to hold it on board the new aircraft carrier on March 6, senior defence officials told ANI.
The conference would see the participation of top naval brass along with the defence minister, Chief of Defence Staff Gen Anil Chauhan, Navy Vice Chief Vice Admiral SN Ghormade and other top tri-services officials.
The INS Vikrant is the latest aircraft carrier of the Indian Navy and the force is going to carry out the flight trials of MiG-29K fighters on it in near future.
It is also moving towards a proposal for constructing and inducting another aircraft carrier of this size and capability before inducting another bigger and more capable indigenous carrier warship.
The conference of the naval officers is taking place ahead of the combined commanders' conference where Prime Minister Narendra Modi is scheduled to address the defence top brass on April 1.
The Indian Navy is the force responsible for organising the tri-services event and this would also come up for discussion at the meeting on INS Vikrant.
The Navy commanders will review the security challenges faced by the force in the maritime domain from both the China and Pakistan front.
The Navy brass would also discuss enhancing the role of indigenous firms in making it combat-ready in both vessels as well as armament.
The Navy is also working at a fast pace to promote indigenisation and has signed 80 contracts worth thousands of crores to induct high-end defence technology like fire-fighting bots, blue green laser for detecting under water vessels, AI-based equipment and multiple ammunition rounds.
A large number of drones is also being inducted into the force as part of the inductions planned in the next few months.