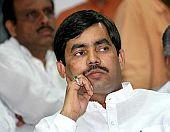 Bharatiya Janata Party MP
Syed Shahnawaz Hussain
spoke to
rediff.com
's
Onkar Singh
about the recent controversy surrounding party chief Nitin Gadkari and Gujarat Chief Minister Narendra Modi's remarks about Shashi Tharoor.
Social activist Arvind Kejriwal has asked Gadkari to resign following the allegations of corruption levelled by the former recently. Why is Gadkari not resigning?

Why should he resign? The charges against him are flimsy. The government has already initiated a probe. Let them carry on with the investigation. Kejriwal did not press for charges, as he was satisfied with the answers. 

Why did Gadkari skip the election campaigning in Himachal Pradesh?

He did not skip campaigning. He wanted to consult his lawyers (about the charges levelled against him by Kejriwal) and those were the only days he could do it.

Is Gadkari still going in for a second term despite the allegations against him?

The election process is still going on. There has been change in the party's constitution, which allows a person to hold another term. It would be too early to predict whether he would to for the second term in office.

Gujarat Chief Minister Narendra Modi described Union Minister Shashi Tharoor as a man who had a Rs 50 crore girlfriend. Do you think he should have made such a statement?

Modi ji was speaking about Tharoor's alleged involvement in corruption in the India Premier League cricket tournament. I think he could not convey properly what he wanted to say. He did not mean it.

You fellow party leader, Mukhtar Abbas Naqvi, described Tharoor as 'love guru' and that government should open a ministry of love affairs…

It is his personal opinion. The BJP does not agree with his opinion.