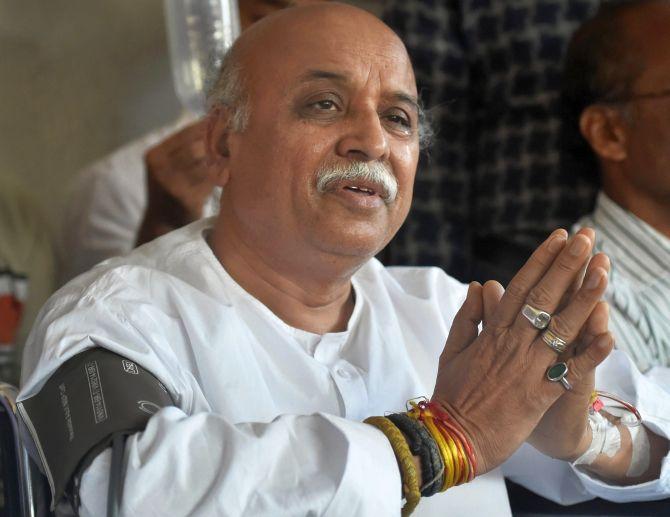 Pravin Togadia, who has been with the Vishwa Hindu Parishad for over three decades, announced quitting the outfit and said he would go on an indefinite fast from Tuesday to push the Hindutva cause.
The veteran leader, who served as the VHP international working president since December 2011, announced his decision in a press conference after his nominee to the post of international president of the VHP was defeated in voting, held for the first time in over five decades.
"I am not in the VHP anymore. I was in it for 32 years. For the welfare of Hindus, I left my home and my lucrative medical practice. I will continue to work for the welfare of Hindus. Hindus first is the mission of my life and from Tuesday, I will go on an indefinite fast in Ahmedabad for fulfilling the longstanding demands of Hindus," he said.
Former Himachal Pradesh governor V S Kokje was on Friday elected the VHP's international president.
Kokje got 131 votes and defeated incumbent Raghava Reddy who mustered 60 votes. 192 delegates of the Vishva Hindu Parishad (VHP) were eligible to vote in today's election in Gurugram.
Togadia, who batted for Redyy, however, alleged irregularities in the exercise.
The election was necessitated after the organisation's members failed to reach a consensus on a new international president.
Kokje proposed names for the new central executive team, which were approved the Board of Trustees, according to a VHP statement.
Alok Kumar has been made the VHP working president and Ashok Rao Chowgule the working president (external).
Milind Parande is the new secretary general and Vinayak Rao Deshpande organisational general secretary.
Champat Rai will be the vice-president and Venkata Koteswara Rao the joint general secretary.
After the election, Togadia said they would continue to be the voice of Hindus. He stressed the need to work together for building a Ram Temple at Ayodhya, getting a law enacted to ban cow slaughter and abrogating Article 370 and 35A.
Article 370 gives autonomous status to Jammu and Kashmir and Article 35A empowers its legislature to define the state's 'permanent residents', their special rights and privileges.
Togadia alleged that there was an attempt to rig the elections.
It was 'shocking and saddening' to see that the VHP has been made to bow before power 'not for Hindu wellbeing but for individual whims and fancies of some power-mongers', he said in a statement.
"Hindus all over can clearly see through the dirty political designs in cracking the grand VHP," he said.
Togadia has of late been critical of Prime Minister Narendra Modi and the Bharatiya Janata Party leadership.