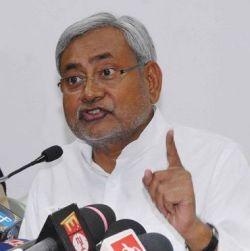 Bihar Chief Minister Nitish Kumar on Wednesday lamented that a section of people start "chanting" 'Jungle Raj' after every incident of crime in the state and said the government has decided to set up a battalion for safeguarding banks and other such establishments.
Without naming the Bharatiya Janata Party or its allies in the National Democratic Alliance, Kumar said, "Nowdays a few people are gripped with the fever of chanting 'Jungle Raj' after every incident of crime. If crime takes place we are also hurt."
Addressing a state level bankers meet in Patna, the chief minister said a decision has been taken to constitute state industrial security battalion to provide security to banks and other establishments.
He, however, laid emphasis on security audit in banks to assess lapses in their security system.
The CM said six bank dacoities took place in 2016 and those involved in them have been arrested and Rs 58,34,500 in cash recovered from them.
The Bihar CM exhorted the banks to be prepared for implementation of students credit card scheme from October 2.
Under students credit card scheme, one of the seven resolves of Kumar, a student clearing class XII would get interest-free loan of Rs 4 lakh for higher studies.
He said trial run for the scheme would take place between September 15 and October 2.
He expressed unhappiness over opening of only 364 new bank branches against a target of 527 in the last financial year.
The CM also said a new industrial policy is in the offing.
He further said preparations have been made for formulation of agriculture roadmap 2017 -2022, after the completion of second one from 2012-17.
State Finance Minister Abdul Bari Siddiqui, Education Minister Ashok Choudhary, Rural Development Minister Shrawan Kumar, Industries Minister Jai Kumar Singh and Chief Secretary Anjani Kumar Singh were present at the meeting.
Senior officials of Reserve Bank of India, State Bank of India, Punjab National Bank and NABARD also attended the meet.