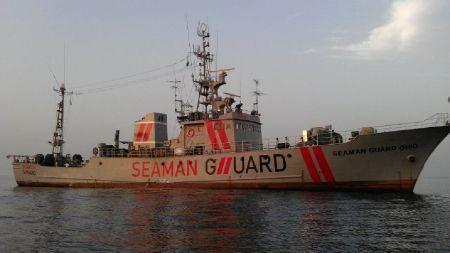 Tamil Nadu Police on Thursday defended its action of detaining the US ship MV Seaman Guard Ohio asserting there is prima facie case against them for illegally straying into Indian territorial waters.
The law of the land would apply to the detained crew and also the ship as it was impounded within the territorial waters of the country, police sources said here.
The sources said, "The ship was found straying at 10.48 nautical miles from the nearest Indian shore and 15 nautical miles from Tuticorin port, which is our territorial and historic waters and the law of the land very much prevails there. We have our jurisdiction there."
The police were coordinating with the Central agencies while dealing with the issue as the ship belonged to a private US firm, the sources said.
Confirming that the ship was in possession of 34 fire arms, they said that it didn't have the necessary documents from Sierra Leone, where the vessel was registered.
Since prima facie the ship entered Indian waters without necessary documents and with arms, the case was registered and the Q branch police was inquiring the matter, sources said.
They also denied speculation that there was diplomatic interference in the case involving the US ship.
To a query on why the 35 persons on board the ship have not been arrested so far, they said since they were foreigners there was a certain procedure to be followed.
Asked about a media report that the ship had only 10 crew on board and no arms when it called on Kochi, its previous port of call, they said, "We will coordinate with Kochi."
They also denied that the ship was near Kudankulam Nuclear Power Plant during its course.
The ship has illegally acquired some 1,500 litre of diesel from some sources.
The Q branch team continued for the second day today in Tuticorin.
The ship flying the Sierra Leone flag was intercepted by the Coast Guard in Indian waters on October 12 and an FIR was registered against 35 persons onboard under the Arms Act and Essential Commodities Act for buying 1,500 litres of diesel illegally with the help of a local shipping agent.