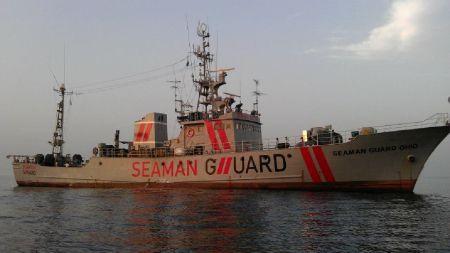 A day after an FIR was filed against 35 persons on board US ship 'M V Seaman Guard Ohio,' detained for straying into Indian waters carrying weapons and ammunition, a multi-agency investigation, including officials from Research and Analysis Wing and Intelligence Bureau, has begun, sources said on Tuesday.
Tamil Nadu government despatched a preliminary report on the incident to the home ministry and RAW and IB have joined the investigations along with other agencies to ascertain whether the crew had documents for all the weapons they carried on board the vessel for a detailed report, they said.
The final report on the investigation would be sent to the home ministry, they said.
However, officials remained tight-lipped on the course of the investigation.
Meanwhile, the Tamil Nadu police have launched a manhunt for two men who allegedly procured and supplied diesel illegally for Seaman Guard Ohio.
"We want to take them into custody to probe if the deal with Ohio pertained only to diesel," an official said.
An FIR was registered against 10 crew members and 25 guards of the vessel under various sections of the Arms Act, after the ship flying the Sierra Leone flag was intercepted by the Coast Guard in Indian waters some 15 nautical miles off Tuticorin coast on Saturday.
Besides, a case under the Essential Commodities Act has also been registered for buying 1,500 litres of diesel illegally with the help of a local shipping agent.
Meanwhile, Deputy National Security Adviser Nehchal Sandhu on Tuesday said he did not think that the American ship was involved in gunrunning.
"The captain of the ship did not declare the arms to customs... Now, the process of law will begin," he told reporters on the sidelines of a function. The police would have to find out if it carried valid documents for weapons, he said.
Asked if the vessel, MV Seaman Guard Ohio, might be involved in gun-running, Sandhi said "I don't think so," adding that it is likely to be owned by a private maritime security company. Some media reports have said a USA-based anti-piracy company owns it.
Sandhu said local police would take a decision on the ship its fate after investigation.
The ship, whose crew included eight Indians, was intercepted and detained by the Indian Coast Guard about 15 nautical miles east of Tuticorin on Saturday.