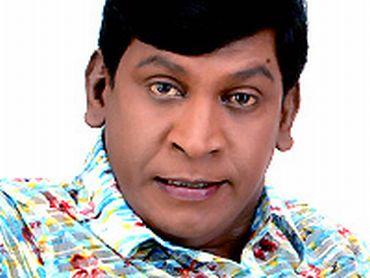 Hundreds of people wait in the scorching sun for over an hour at a street in Andipetti in Theni district of Tamil Nadu.
The crowd breaks into raptures and raises slogans and flock a tempo traveller which approaches them at a snail's speed. The vehicle stops and suddenly there is a studied silence but seconds later, the crowd goes berserk when a frail-looking man appears from the tempo and holds a mike to address the gathering.
The man for whom the people have been waiting for is none other than Tamil comedian Vadivelu, who has now emerged as the 'star campaigner' for the ruling Dravida Munnetra Kazhagam-Congress combine.
Like politicians, he doesn't give a very lengthy speech in classical Tamil. He speaks in a very plain and colloquial Tamil with a slang that is quite common in Madurai and other parts of southern Tamil Nadu.
And most of the times, his target is only person -- Vijayakant, his colleague in tinsel town and president of DMDK, which has aligned with opposition All India Anna Dravida Munnetra Kazhagam.
With his simple speech that has a mix of comedy and sarcasm, Vadivelu draws huge crowds to places wherever he goes after the DMK's strongman in Madurai and Union minister M K Alagiri fielded him in the election campaign.
Alagiri rightly used a small tiff between Vadivelu and Vijayakant for the party's political gains. In this stronghold of AIADMK and the constituency which is currently held by AIADMK chief J Jayalalithaa, he spared none.
He took potshots at Jayalalithaa, Vijayakant and the parties which they head. He doesn't read from a written speech like politicians and he talks to people in simple language and sometimes converts it into an interactive session with voters.
Flanked by DMK candidate Mukaiah in this AIADMK stronghold, Vadivelu asks the frenzied crowd, "Jayalalithaa was elected from this constituency twice. What has she done?"
The crowd becomes silent suddenly. He asks again "what has she done?" The crowd says "no" in a very low voice.
But, Vadivelu continues to attack Jayalalithaa and her coalition partner Vijayakant
Vadivelu takes potshots at Vijayakant for allegedly
beating his party candidate during campaigning. He asks the crowd, "Have you ever seen a party leader beating his own candidate? Have you ever seen Chief Minister M Karunanidhi or MGR or Annadurai beating candidates?"
"No", screams the crowd and having got the nod from people, he continues to attack Vijayakant. "Only people like Mahendra Singh Dhoni who have made a billion Indians proud by winning the Cricket World Cup can be called as captain. A person like Vijayakant can never be called a captain. He is not a captain," he says.
Vijayakant is popularly known as 'Captain' among his followers and fans. People scream and clap when Vadivelu speaks and try to break the cordon to shake hands with him.
The comedian also accepts gestures and wishes from people and sings famous numbers from late matinee idol M G Ramachandran's movies.
He just doesn't finish at taking potshots. He also lists the welfare schemes being implemented by the DMK government.
As he finishes speaking and gets down to sit in his van, people again scream slogans like "Vadivelu and Vadivelu". The crowd then slowly starts disintegrating and the place suddenly wears a deserted look.
Image: Tamil star Vadivelu