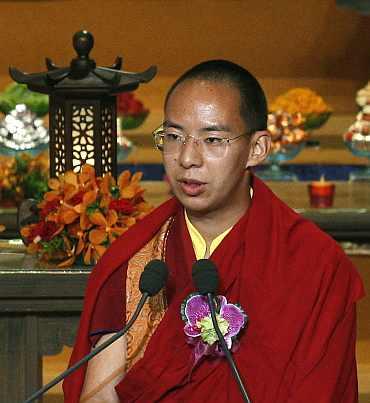 Self-immolation by six Tibetans, including three teenage monks, protesting Chinese rule in Tibet continued to haunt China as Communist Party leaders on Thursday began a key meeting where Panchen Lama, projected by Beijing as the rival to the Dalai Lama, was given prominence.
Six Tibetans set themselves alight in Aba county in the Sichuan province, where many self-immolations have taken place in recent months, overseas Tibetan groups said.
In a statement, Central Tibetan Administration in Dharamsala also claimed six Tibetans, including three teenage monks of Ngoshul monastery, had immolated themselves in Tibet since Wednesday.
The total number of self-immolations in Tibet have reached 69, out of which 54 have died, the statement said. Tibetans have set themselves on fire since early 2011, which according to the rights groups was to protest against China's harsh rule in Tibet and calling for the return of the Dalai Lama from India.
The suicide bids took place as the ruling Communist Party began a week-long meeting to select a new set of leaders to succeed President Hu Jintao and Premier Wen Jiabao.
Significantly, 22-year-old Panchen Lama, Bainqen Erdini Qoigyijabu, the young Tibetan monk being promoted by China as Tibetan Buddhist leader was given prominent  projection by the Communist Party.
Panchen Lama was shown prominently in the live telecast and later official media posted pictures of him taking part in the inaugural meeting of the party.
He was roped into politics in 2010 when he was appointed to the Chinese People's Consultative Conference, a ceremonial body with nominated members.
This is the first time he appeared in a high profile Communist Party Congress continuing with the policy under Hu, to accord him official recognition as the Tibetan Buddhist monk patronised by Beijing.
While China under Hu has posted high growth rates and emerged as the second largest economy, internal tensions in Tibet and Muslim majority Xinjiang province have aggravated, which critics say is due to strong security-centric policies pursued even while allocating large amount of money for their development.
Both provinces are currently restive with heavy deployment of security forces. Dalai Lama, who is currently touring Japan has expressed hope that the new Chinese leadership, headed by the present Vice President Xi Jinping would pursue a more reconciliatory approach to find a solution to the Tibet issue.