Australian swimmer Stephanie Rice, who won three gold medals at the Beijing Olympics, has had surgery on her troublesome right shoulder but reckons she will be back in the water next week.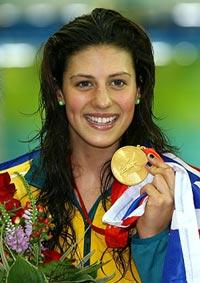 The 23-year-old, who also had surgery on the shoulder in 2010 and managed just a bronze in the 400 metres medley at this year's world championships, withdrew from this week's Queensland championships to undergo the operation.
"I have just undergone an arthroscopy on my right shoulder which had a small tear in the tendon. Everything else was a-ok and should be back in the water before Christmas," Rice posted on her twitter page (www.twitter.com/ItsStephRice) on Tuesday.
"Surgery went really well," she added from home on Wednesday. "Surprised with how much movement I've already got back in my shoulder."
Rice won 200, 400 and relay medley golds -- all in world record times -- at Beijing's Water Cube in 2008 and has said next year's London Games might be her swansong.