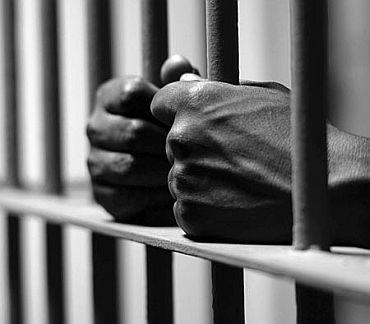 Three persons with alleged "ideological leaning" towards the banned Jaish-e-Mohammed were arrested in New Delhi on Wednesday night for planning terror strikes in different parts of the national capital.
The three identified as Sajid Ahmad, Sameer Ahmed and Shakir Ansari were arrested while fabricating an Improvised Explosive Device, official sources said.
Their movement was being continuously monitored by the central intelligence agencies and special cell of the Delhi Police for last one year, sources said, adding the trio had got indoctrinated through the Internet.
While Sajid and Sameer hail from Delhi, Ansari is a resident of Deoband in Uttar Pradesh. They were produced before a court which remanded them in 10 days' police custody.
The three had been learning to put together IEDs over the past fortnight and last night Sajjid, the alleged kingpin of the group, got injured while making the explosive device.
His left hand was damaged when it went off accidentally, prompting the police to swing into action and arrest them.
According to the sources, the three had an ideological leaning towards the banned Jaish-e-Mohammed terror group headed by Maulana Masood Azhar, who is wanted by India in connection with 2001 Parliament attack case and the terror strike on Pathankot IAF base in January this year.
Besides arresting these three, police and other security agencies have detained nearly a dozen people for questioning, the sources said.