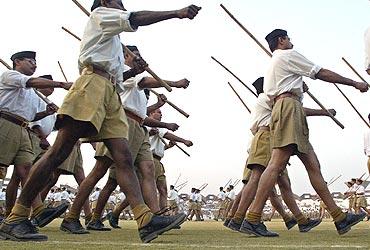 In a first of its kind interaction after Narendra Modi took over as Prime Minister, the top brass of the Rashtriya Swayamsevak Sangh and its affiliates, the government and the Bharatiya Janata Party came together to deliberate on various national issues.
There was speculation that the demand for one-rank-one- pension over which ex-servicemen are agitating in the capital was discussed on the sidelines of the three-day coordination meeting.
Governance issues like the land bill and the Patels reservation agitation in Gujarat and recent census figures are also on the list of items to be deliberated.
Prime Minister Narendra Modi is expected to attend the event on its last day on Friday. Wednesday's deliberations were attended by union ministers Rajnath Singh, Arun Jaitley, Sushma Swaraj, Manohar Parrikar, Venkaiah Naidu, Anant Kumar besides party chief Amit Shah and some other ministers.
RSS chief Mohan Bhagwat presided over the meeting which was attended by representatives of 15 Sangh associates, including Vishwa Hindu Parishad, Swadeshi Jagaran Manch and Bhartiya Mazdoor Sangathan.
BJP General Secretary Ram Madhav, who has been deputed by the RSS to the party, told reporters that there would be no discussion on the OROP issue, adding that the government is seized of the matter.
"The meeting is about how we should move ahead into the future. It's not about any review of the government or any policy and programmes," he said.
Sources said government would be given a feedback over the issues before it but it would not be any threadbare analysis of any specific programme or policy.
There was a feeling among the participants in the meeting that the contentious OROP issue should be resolved at the earliest, considering that it is an issue dear to the Sangh Parivar.
Economic issues were on Wednesday's agenda of the coordination meeting while those related to social, culture and education would be coming up for discussion the next two days.
Coordination meetings among the Parivar outfits are bi-annual in nature but this time the number of participants is almost double the usual, giving the meeting an extra significance. Modi is also attending it for the first time after becoming the prime minister.