Thousands of people, including Left party leaders and others from all walks of life, bid a tearful adieu to veteran Communist leader Govind Pansare who was cremated on Saturday sans any religious rituals on the banks of Panchganga river in Kolhapur, Maharashtra.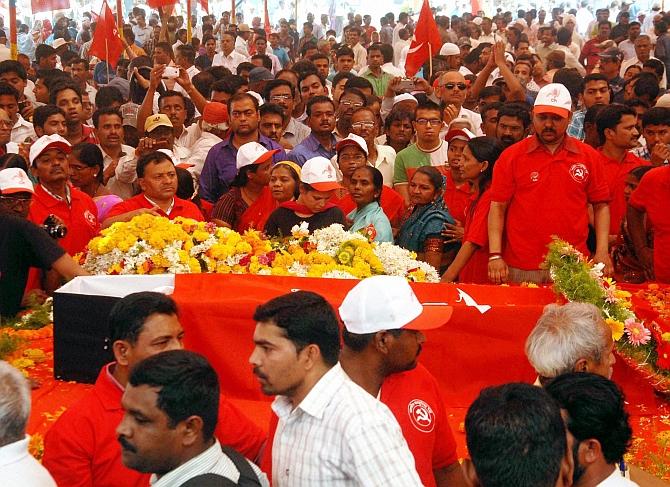 Image: People participate in the funeral ceremony of Comrade Govind Pansare in Kolhapur. Photograph: PTI Photo
The mortal remains of Pansare (82), a prominent anti-toll activist and a rationalist, were consigned to flames by his grandsons Kabir and Malhar in the evening.

Pansare, who was shot at and critically wounded by unidentified assailants outside his housing society after returning from a morning walk on February 16, succumbed to his injuries at Breach Candy hospital in Mumbai late Friday night.

His wife Uma who also sustained injuries in the attack is said to be out of danger.

Besides Pansare's grandsons, his daughter Smita Satpute and daughter-in-law Megha were among the family members present at the crematorium.

Earlier, his mortal remains were flown in to Kolhapur from Mumbai after a post-mortem examination was conducted, and were put on a stage at Dasara Chowk here for last darshan.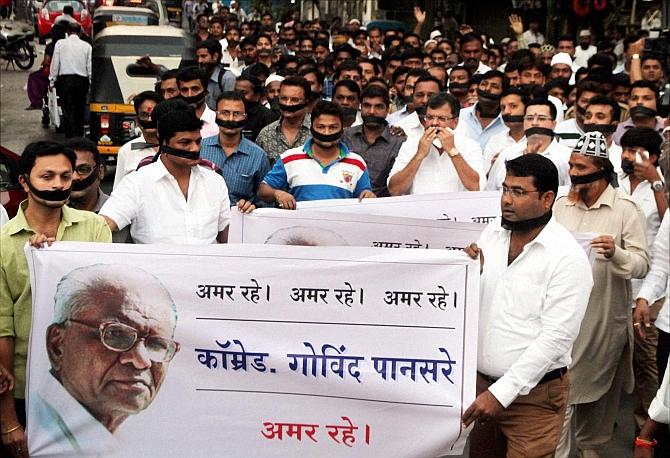 Image: NCP activists pay tribute to Senior CPI leader Govind Pansare during the silent march in Thane, Mumbai. Photograph: PTI Photo
Apart from politicians and Left leaders, including N D Patil, state cooperative minister Chandrakant Patil, ex-labour minister Hasan Mushrif, local MP Dhananjay Mahadik, farmers' leader Raju Shetti, people from various strata of society paid homage to the departed leader.

A 'Vidnyan Probodhini' activist placed a flag of 'Narmada Bachao Andolan' on Pansare's body as a tribute from Medha Patkar and the protesters fighting against the dam, and the National Alliance of People's Movement.

Pansare's mortal remains were then placed on a decorated tractor trolley and the funeral procession began at around 3 pm, which was joined by prominent Left leaders such as Sudhakar Reddy, Ashok Dhavale, Bhalchandra Kango while Jayant Patil (MLC), Bharat Patankar of Shramik Mukti Dal, socialist leader Bhai Vaidya and activists from the fields of culture and literature were also present.

The procession culminated into a gathering at the crematorium where the Left leaders and other prominent people recalled Pansare's work as an activist and vowed to make Sunday's Maharashtra shutdown a success.

They also announced the plan to organise a march of all "progressive forces" in Mumbai on March 11 in protest against the attack on the elderly couple.