'As far as I know, Sachin Pilotji is not going to the BJP.'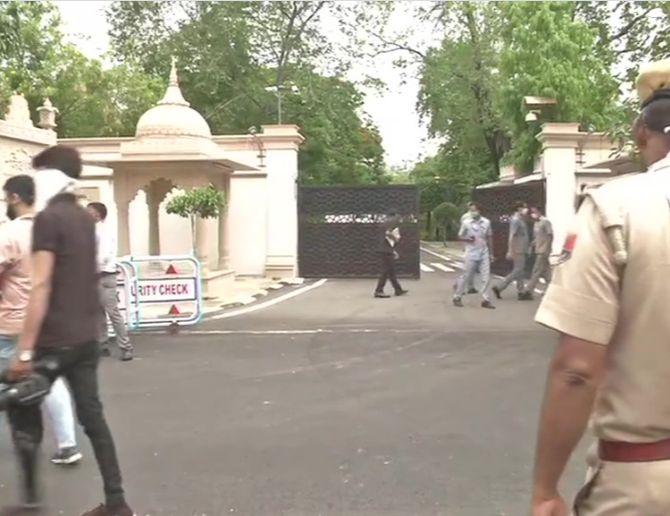 The crisis in the Rajasthan government, with Deputy Chief Minister Sachin Pilot raising the banner of revolt and claiming the support of 30 Congress legislators, seems to have been averted for the time being at least, with the rebel MLAs deciding not to walk out of the party.
Three of them -- Rohit Bohra, Danish Abrar and Chetan Dudi -- had a change of heart following a visit to New Delhi and announced at a press conference on Sunday that they were with the Congress party.
Speaking to Rediff.com's Syed Firdaus Ashraf on Monday morning ahead of the Congress legislature party meeting, Bohra says, "There is no danger to the Ashok Gehlot government, it will run its full five-year term."
Asked why he went to Delhi with Pilot, Bohra asks, "Anyone can go to Delhi, what is wrong in it? People go to Delhi for their personal work. And we have a couple of Congress MLAs who have homes in Delhi so they go there."
MLA Chetan Dudi, who was seen to be in the Pilot camp, also toes the party line, stating, "We have our numbers and this government will survive. And time will prove me right as Gehlotji's government will complete its full term."
The latest round of trouble between Pilot and Gehlot erupted when the Rajasthan police's special operations group issued notices to Gehlot and Pilot after registering an FIR on Friday against two people, who have been detained, for their alleged involvement in horse-trading of Congress MLAs for toppling the state government.
This notice was seen by Pilot as a move to publicly humiliate him.
Gehlot had accused the Bharatiya Janata Party of trying to topple his government by offering large amounts of bribes to switch sides following which the SOG was set up.
When asked what was the need for Pilot to be summoned by the SOG, which had led to the crisis, Dudi asks, "Even Chief Minister Gehlotji has to present himself before the SOG, so what is wrong?"
Rajasthan Revenue Minister, Harish Chaudhary, who was instrumental in averting the crisis, echoes the same line.
"Even the CM got the notice from the SOG. This was not sent to the deputy chief minister alone. All the concerned people needed to be spoken to during the course of investigation and therefore the notice was sent," Chaudhary tells Rediff.com.
Asked about the continuing differences between Pilot and Gehlot, Dudi says, "There can be differences, but that is between Pilotji and Gehlotji, how can I comment on it?"
About the speculation that Pilot is on the verge of joining the BJP, Dudi says, "As far as I know, Sachin Pilotji is not going to the BJP."
Revenue Minister Chaudhary affirms, "There is no crisis to the Gehlot government and we have a comfortable majority. We will last our full term.
Asked if Rajasthan would become the next state to slip out of the Congress's clasp after Madhya Pradesh, Chaudhary declares that that history will not repeat itself in Rajasthan.
"The BJP made a mistake, this is Rajasthan, not Madhya Pradesh!" asserts Chaudhary.
Asked if the Congress leadership at the Centre is sidelining young leaders like Sachin Pilot, Chaudhary says, rather cryptically, "This is just a simple observation, nothing more than that."