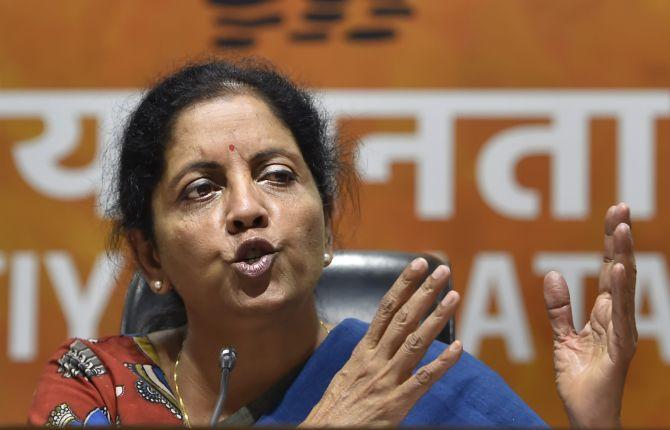 The Bharatiya Janata Party on Sunday mounted an attack on the Congress on corruption after chargesheets were filed against family members of former Union Minister P Chidambaram and said the party had not acted on a Supreme Court order for setting up a Special Investigation Team as it would have indicted its own leaders.
BJP president Amit Shah led his party's nationwide attack on the Congress and cited the four chargesheets filed by the Income Tax department against Chidambaram's family members to allege they had illegal assets worth 3 billion dollars, a claim dismissed by Chidambaram as a dream of the chief of 'India's richest political party'.
'This explains why despite Supreme Court's orders Sonia Gandhi, former PM Dr Manmohan Singh & then FM P Chidambaram dragged their feet on formation of SIT, one of the first decisions taken by Modi govt, to fight black money! How could they indict their own selves,' Shah tweeted.
Chidambaram retorted to Shah's charge in a tweet, urging the BJP to bring back black money stashed abroad -- as promised by the party before the 2014 Lok Sabha polls.
'The president of the richest political party in India is dreaming of billions of dollars! Bring the money back and put Rs 15 lakh in the account of every Indian as you promised,' he said.
The BJP also directed its leaders across the country, including chief ministers, to target the Congress over the issue and fielded Defence Minister Nirmala Sitharaman in the national capital to attack the rival party.
She described the charge sheets against Chidambaram's family members as the 'Nawaz Sharif moment' of the Congress, a reference to Pakistan Supreme Court's decision disqualifying its former prime minister from holding office because of non-disclosure of assets and income earned abroad.
"The parallels cannot be missed out in this case. I am wondering if for Congress party in India, we are seeing the Nawaz Sharif moment," she told reporters in New Delhi.
Chidambaram mocked her with a tongue-in-cheek tweet.
'The buzz in Delhi is that Ms Nirmala Sitaraman will be removed as defence minister and appointed as lawyer of the Income-tax department. Welcome to the bar, Ms Sitaraman (sic),' he said.
The Income Tax department on May 11 filed charge sheets against Chidambaram's wife Nalini, son Karti, daughter-in-law Srinidhi and a firm under the Black Money Act for allegedly not disclosing their foreign assets.
Sitharaman asked if Congress president Rahul Gandhi would investigate the issue involving his party's senior leader.
"The Congress party president, incidentally who is also out on bail on some financial transactions which are questionable, should certainly comment and tell the entire party and people of India whether he is going to investigate this," she said.
She pointed out that the Pakistan court had disqualified Sharif from holding office because of not disclosing assets held in foreign countries.
Sitharaman said the law on black money was brought in by the Modi government because it had pledged before the last Lok Sabha elections to fight unaccounted for money held in India and abroad.
The chargesheets or prosecution complaints have been filed by the IT department before a special court in Chennai under Section 50 of the Black Money (Undisclosed Foreign Income and Assets) and Imposition of Tax Act, 2015, officials said.
Nalini Chidambaram, Karti and Srinidhi and a firm linked to Karti have been accused of not disclosing, either partly or fully, immovable assets such as one at Barton, Cambridge, United Kingdom, worth Rs 5.37 crore, property worth Rs 80 lakh in the same country and assets worth Rs 3.28 crore in the United States.
The former finance minister's family members had said the Income Tax Department charge sheets against them under the black money law were 'baseless allegations' as the overseas investments under question had been reflected in their IT returns.
Chidambaram reminded the ruling BJP of its failure to bring back black money from abroad and deposit Rs 15 lakh in every Indian's bank account, as promised by it before the 2014 Lok Sabha election.
IMAGE: Defence Minister Nirmala Sitharaman speaks during the press conference at BJP Headquarters in New Delhi on Sunday. Photograph: Ravi Choudhary/PTI Photo