Prime Minister Narendra Modi was welcomed by over 500 Indian-Americans who had gathered outside the Waldorf Astoria Hotel on Thursday. The prime minister stepped out of his vehicle amidst chants of 'Modi, Modi' and was greeted by the anxious crowds to whom he waved enthusiastically.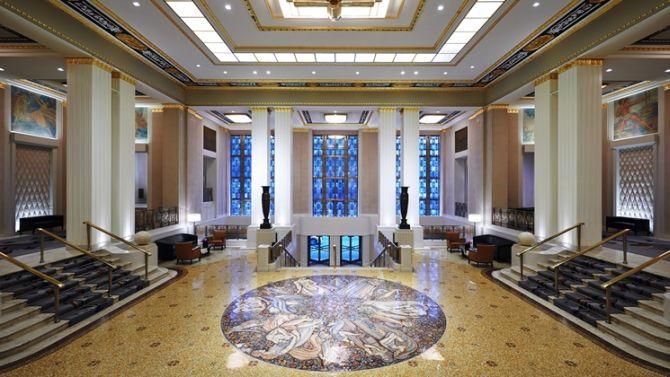 A view of the lobby of the the Waldorf Astoria which has housed many American presidents over the years. Photograph: waldorfastoria3.hilton.com
Even as the Secret Service agents scrambled to set up a cordon around him, PM Modi, who seemed unfazed by the large numbers attempted to get closer to the crowd.
The prime minister is staying in one of the hotel's 26 iconic presidential suites which is on the 35th floor and has a foyer, a living room, a dining room and a kitchen. The room is also peppered with several mementos -- such as the rocking chair of John F Kennedy -- from visits of earlier US presidents who have stayed there.
The prime minister is set to receive a desi reception at the the Waldorf Astoria, famed for its eponymic salad.
As part of Modi's dinner meeting at the hotel, a seven course meal covering nearly 30 Indian festivals will be prepared by Michelin star chef Vikas Khanna.
The meal will include traditional dishes like the poha, khandvi, modak, thandai along with dates, non-alcoholic drinks and desserts, served in a fine dining format. Among those expected to attend are Lockheed Martin chairman Marillyn A Hewson, Ford Motor president Mark Fields, PepsiCo chief executive Indra Nooyi and Johnson & Johnson chairman Jorge Mesquita.
Incidentally, Pakistan's Prime Minister Nawaz Sharif is also staying at the Waldorf as are Russian President Vladimir Putin and Chinese President Xi Jinping.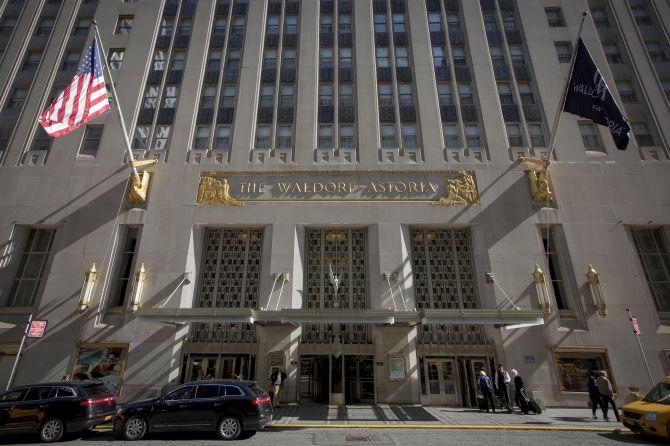 The Waldorf Astoria is located at 301 Park Avenue in New York and was acquired Chinese insurance company last year. Photograph: Brendan McDermid/ Reuters
The Waldorf Astoria has traditionally been the hotel of choice for US Presidents when they visit the city for the annual United Nations general assembly sessions. The hotel has hosted many world leaders including Queen Elizabeth.
This time, though, the US President and his staff will be staying at The New York Palace, which has traditionally been the hotel where Indian heads of government stayed. Last year a Chinese insurance company purchased the Waldorf Astoria, triggering concerns of potential cyber intrusions by Chinese hackers if President Barack Obama stayed there.
The prime minister's team considered other hotels like The Pierre for his stay but reportedly chose The Waldorf Astoria because of its banquet facilities.
During his five-day visit, PM Modi will attend the UNGA session. He will also meet many CEOs, travel to the Silicon Valley, and address the Indian community in the US. PM Modi is also expected to meet President Obama in his second visit in two years.