National Democratic Front of Bodoland-Songbijit members are seeking refuge from the army and police personnel inside the sprawling Manas National park, a tiger reserve, reports K Anurag.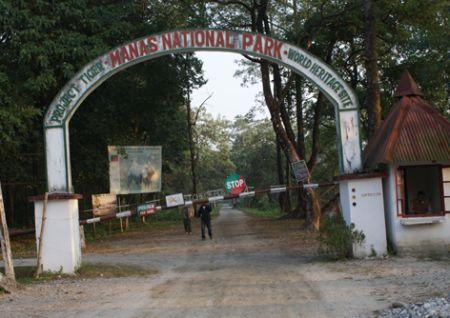 On Tuesday, army personnel spotted a few NDFB-S militants inside the park. Photograph: www.manasnationalpark.co.in
The sprawling Manas National Park, which is a tiger reserve in Assam, has turned into a refuge for the National Democratic Front of Bodoland-Songbijit militants.
This latest development has created a flutter amongst environmentalists and wildlife conservationists, given that the park faced a tumultuous period during the late 1990s when Bodo militancy was at it peak. However, the sustained efforts of the forest department staff and conservationists helped restore the park to its previous grandeur.
But, today the NDFB-S ultras are once again taking shelter inside the park, forcing the police and the army to launch several operations to flush them out. Speaking to Rediff.com, Director General of Assam Police Khagen Sarma said that about 40 NDFB-S cadres with arms have taken shelter inside Manas Park to dodge security forces, which are hot on their heels.
The army, which has launched a search mission around the periphery areas of the park, claim to have spotted terrorists inside the park. In fact, a team of army personnel on Tuesday spotted a few militants at the edge of a water body. However, the militants spotted the troops and managed to escape.
The fleeing terrorists left behind a loaded pistol, 5.56 mm magazine filled with ammunition, one grenade, about 500 kilogram of rations and blue coloured tarpaulins.

An all-out and sustained operation was launched by the army and Assam police against the NDFB-S militants in the wake of the group massacring scores of Adivasi villagers in Assam on the night of December 23 last year. The operation has so far inflicted heavy damage on the terror group in terms of men and equipment.
While over 20 militants have been eliminated, 350 cadres of the outfit, have been arrested so far in the operation.