Family members of injured victims weep outside a hospital after a stampede occured during Dussehra function at Gandhi Maidan in Patna on Friday. Photograph: PTI
Thirty-two people were killed and 21 injured in a stampede that broke out on Friday evening at the Gandhi Maidan in Patna, shortly after the Dussehra celebrations ended.
The tragedy occurred when people were returning after watching the 'Ravana Vadh' ceremony -- burning of the Ravana effigy -- at the main Dussehra event where a huge crowd had gathered, police said.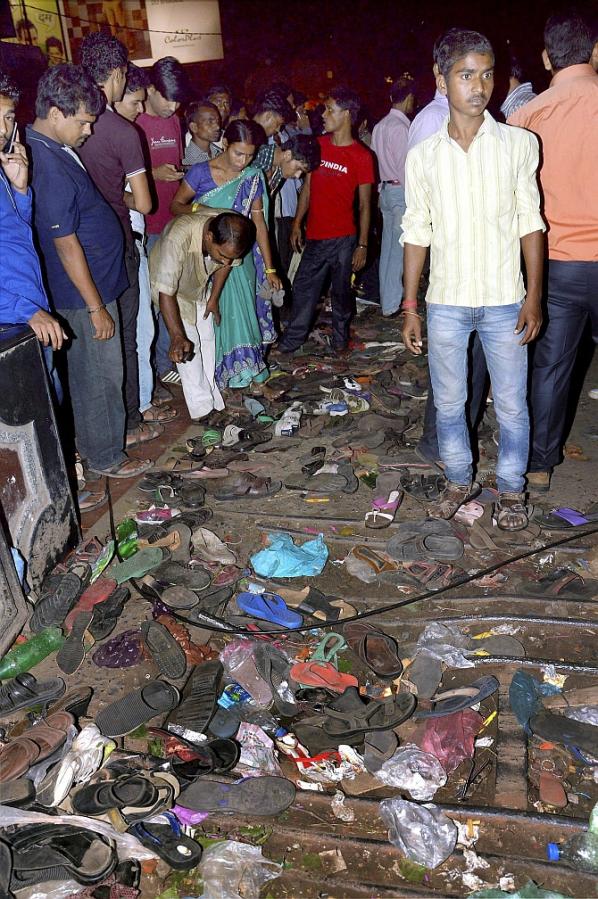 People stand near footwear of stampede victims after the Dussehra function at Gandhi Maidan in Patna on Friday. Photograph:PTI
"Thirty-two people have died," Bihar Home Secretary Amir Subhani said.

Officials said the dead were mainly women and children. "Among the dead, there were five to six children and around 20 women," said Patna District Magistrate Manish Kumar Verma.
The incident happened at the Exhibition Road area near Gandhi Maidan in the heart of the city, as some people in the crowd started jostling with each other to move forward, eyewitnesses said. Some eyewitnesses said that panic broke out following rumours that a live electric wire had fallen on the ground.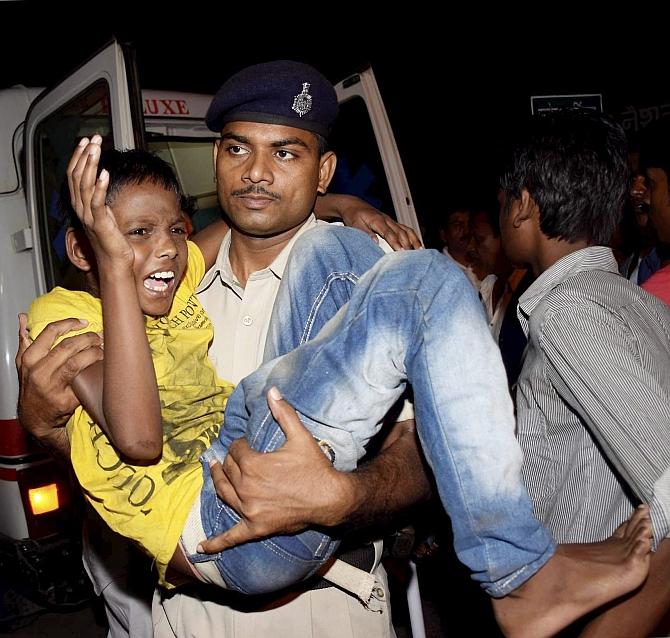 Police personnel takes a victim to hospital after a stampede. Photograph: PTI
Slippers, shoes and footwear were seen strewn on a 500 metre stretch as people tried to flee from the scene. "There was so much rush towards the exit gate that several women and children were run over in the frenzy," Verma said.
The police have blocked the entry of people to the stretch now.
Prime Minister Narendra Modi spoke to the Bihar Chief Minister Jitan Ram Manji to inquire about the stampede. He sanctioned Rs 2 lakh each for the next of those killed.

"The stampede in Patna is deeply saddening. I spoke to the Bihar CM about the situation. My condolences to the families of those who lost their lives and prayers with the injured," said Prime Minister Narendra Modi on Twitter.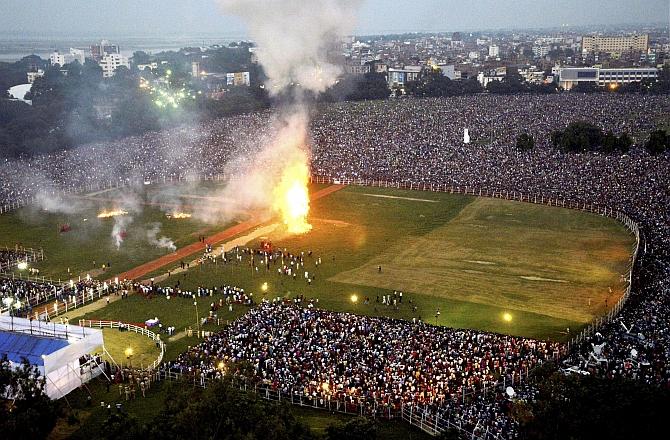 . Photograph: PTI
The Dussehra celebrations at Gandhi Maidan are organised by the state government. Manji was present at event where people watched an arrow setting the 60-feet tall effigy of Ravana into flames.