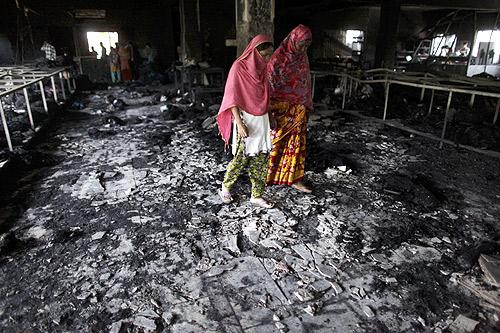 Thirteen people, including the owners of a garment manufacturing unit, were on Sunday charged with culpable homicide for the death of 112 people in Bangladesh's deadliest factory fire.
After a year-long probe, the police filed charges against the owners, Delwar Hossain and his wife Mahmuda Akhter, and the managers and security guards of Tazreen factory in Ashulia, which was gutted on November 24, 2012. Over 200 others were injured in the blaze.
All 13 could face life in prison if convicted.
"Tazreen Fashions Ltd chairman Mahmuda Akter and managing director Delwar Hossain are among the 13 charged for (involuntary) manslaughter and deaths caused by negligence under the Code of Criminal Procedure," a court official said.
The charge sheet said the accused did not allow workers to leave the factory and dismissed a fire alarm as a drill, Additional Public Prosecutor Anwarul Kabir Babul was quoted as saying by the Dhaka Tribune.
The probe did not rule out the allegation that the fire may have been an act of sabotage.
The factory, on the outskirts of Dhaka, supplied clothes to several international brands, including US giant Walmart, Dutch retailer C&A and ENYCE, a label owned by US rapper Sean "Diddy" Combs.
Among the 13 accused, six members of the factory's top management, including the owners, are currently on the run. One of the accused is in custody and the others are out on bail.
The case will be heard by a Dhaka magistrate's court on December 31. The fire was the country's deadliest ever industrial accident till the RanaPlaza garment factory complex collapsed just months later, killing 1,135 people.
Bangladesh's garment industry is worth over USD 20 billion, second only to China, but is often in the international spotlight because of poor safety conditions.
Factory owners are rarely charged over such accidents in the sector, which employs over 3.6 million workers, mostly women, and accounts for 77 per cent of the country's exports.
Workers are often paid as little as $38 a month.
Bangladesh has pledged to clean up the industry after the RanaPlaza disaster in April and more than 100 top Western retailers have agreed on new safety measures to allow greater scrutiny of their operations.