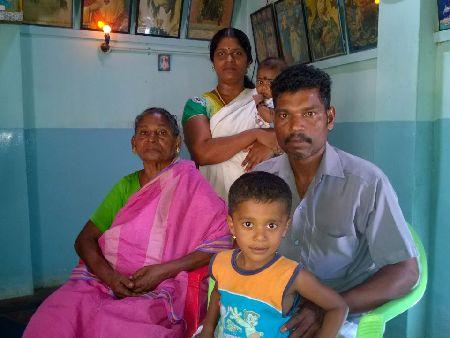 Four fishermen who traveled to the Middle East, dreaming of earning more money, instead ended in an Iranian jail.
Rediff.com's A Ganesh Nadar reports.
Four fishermen from the Kadiapattinam coastal village in Kanyakumari district -- M Hilarian, C David, K Prabhu, and M Anthony Raj -- are back on the high seas, fishing again, but this time in Indian waters.
They have had enough of fishing in foreign waters.
The quartet had gone together to earn money in the Gulf after paying Rs 40,000 each for the visa and tickets. For seven months they worked for an Arab boat owner, sending home between Rs 15,000 to Rs 20,000 every month.
Hilarian, 51, has been going to sea since he was 13 years old. He has a married daughter and a son who is studying at an engineering college in Chennai.
He works in Kayalpattinam, Tuticorin district, and also in neighbouring Kerala. Since he does not own a boat, he works for others.
He traveled to Dubai with the three others from his village on July 6, 2015.
Recalling how they were arrested by the Iranian police on February 7, 2016, Hilarian says, "We were fishing near Sharjah near an oil rig when the police came and arrested us."
"We did not know that they were police and sped away. We stopped when they fired at us. Anthony Raj was shot in the chest. When we saw him bleeding, we stopped in fear. Imagine someone was trying to kill us for fishing," Hilarian remembers.
"They chased us in three boats. The Iranians took Anthony to hospital while we were taken to court first and then jail. In jail, they tortured us. We could not understand their language and this made them more angry," Hilarian recalls.
The boat's Arab owner was also in jail with his three Indian employees. Along with them were 11 fishermen from Gujarat.
"He (the boat's owner) steers the boat. He was in jail for a month and ten days. He paid a fine and left without bothering about us. We were released after completing our jail sentence of three months," adds Hilarian.
Hilarian, who now works for local boat owners, is waiting for the financial aid of Rs 2 lakh (Rs 200,000) Tamil Nadu Chief Minister J Jayalalithaa announced for him and the others.
"I have two daughters and I thought I would make some money for their weddings," says David. "Instead I have come back with debts."
"The prison food was horrible. They gave us very little food. They were trying to starve us to death. We did not know their language. The Gujaratis spoke to them and translated it for us in Hindi. I am 42 years old. For the rest of my life I will make sure I don't go anywhere near Iran," says David.
Four of the Gujarati fishermen returned with the Tamil fishermen. Seven of the Gujarati fishermen returned to work on Arab dhows after their owner paid the fines for them.
"You can go to jail anywhere in the world, but not in Iran. They will starve you to death. They treat their own citizens so badly. They cut people's hands for some crimes. It's a barbaric country," says David, shuddering at the memories.
"I borrowed money to go there. When I was in jail, my wife borrowed money," he says. "The chief minister's money will help us pay off the loans."
"WWe were not even fishing, we had dropped anchor," says Anthony who was wounded when the Iranians opened fire. "We could see the buildings of Dubai from where we anchored the boat. The police were very aggressive. We thought they were pirates and tried to escape."
"They fired at us and we stopped. The bullets went through the hull of the boat and hit me. I was hit by two bullets. Luckily, the bullets went right through me. I got hit in the chest," he says.
"They took me to hospital immediately. It was a small hospital where I could not be treated, so they took me to a bigger and better hospital. I was there for eight days. On the ninth day I joined my villagers in jail," he says.
Once they were released from the Iranian prison, the fishermen approached the Indian embassy in Tehran to return home. Another hurdle awaited them.
"The Indian embassy said we needed temporary passports to go back. Our passports were with our owner in Dubai. The officials said it would take 15 days for our passports to be ready. Shockingly, they sent us back to jail for 15 days for entering Iran without a visa," says Anthony.
"It was strange. The Indian officials were sending us to jail for no fault of ours. They could have made arrangements for our stay, but they did not want to spend money on poor fishermen," he adds.
The Indian officials later gave them temporary passports, air tickets to fly to Dubai and then to Chennai, and 2,000 Iranian rials. The fishermen found there were no takers for the Iranian currency at money exchange centres at the airports.
"We came back from Iran with nothing," says Anthony. "We had borrowed money to go there. For three months, when we were in jail our families survived by borrowing money. The CM has announced Rs 2 lakh. I think we will receive it soon."
Prabhu is the only one among the four who is not married. He is 32 and has studied up to Class 8.
"My family paid Rs 40,000 to send me there. I sent money regularly for seven months, but the family had a hard time when I was in jail. It was a horrible jail. We came back alive because we were there for only three months. If the sentence was longer we would have starved to death," he says.
"I am happy that the chief minister has decided to give us monetary help. It will help pay our debts. I don't think my family will ever ask me to go abroad again," he says.
"The sea does not scare me," he adds, "but the thoughts of Iran are really scary."
IMAGE: M Anthony Raj, who was shot by the Iranian police, with his family. Photograph: A Ganesh Nadar/Rediff.com