'We are not worried about raids. We have nothing to hide.'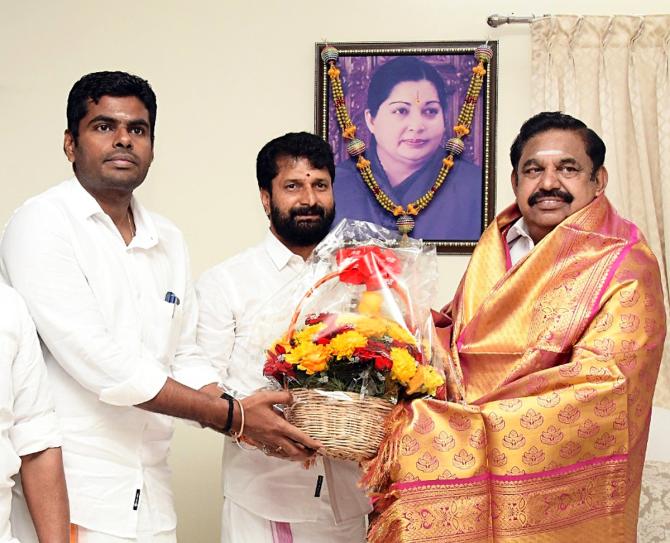 Just a few days ago one saw All India Anna Dravida Munnetra Kazhagam General Secretary and former Tamil Nadu chief minister Edappadi K Palaniswami chatting with Bharatiya Janata Party senior leader and Home Minister Amit A Shah, the bonhomie between them clearly visible.
This week the AIADMK announced that its alliance with the BJP was over. What happened in a matter of days for this drastic break, which proved that a week is a long time in politics.
What happened? Kuppusamy Annamalai happened!
Annamalai, a former Indian Police Service officer, is president of the Tamil Nadu BJP unit. He is currently on a statewide padayatra. Each day he comes out with some statement which offends somebody or the other.
Usually Annamalai's statements attack the ruling Dravida Munnetra Kazhagam in Tamil Nadu, but sometimes he attacks the AIADMK .
Earlier he had released the alleged assets of DMK leaders -- one MP on Annamalai's list owned assets of more than Rs 50,000 crore or Rs 500 billion! Annamalai threatened he would release the assets of all the parties who have ruled Tamil Nadu -- which includes the AIADMK.
The AIADMK made some noise, but let it pass.
Next he criticised former chief minister J Jayalalitha. This raised the AIADMK's hackles and it passed a resolution condemning Annamalai at a meeting of its district secretaries, warning him that any attack on its leaders would not be tolerated.
Annamalai's latest statement was against a stalwart of the Dravidian movement, the late C N Annadurai, the first DMK chief minister of the state and mentor of the AIADMK's founder M G Ramachandran.
"He is talking about one of the tallest leaders of the Dravidian movement. He is mentioning an incident that happened decades ago and also twisting the facts to suit his narrative," says Dr Jayawardhan, a former MP and senior AIADMK leader D Jayakumar's son.
"This is not the first time, and because he is doing it regularly we strongly believe that he has the blessings of the BJP high command for his aggressive behaviour," says Dr Jayawardhan.
"Yes, our secretary EPS did meet Amit Shah in Delhi. Allies meet regularly to discuss problems and solutions and further activities of the alliance. What is wrong with that? A week later we broke the alliance because of Annamalai's attack, it has got nothing to do with Amit Shah," Dr Jayawardhan adds.
"We are not worried about raids from the Enforcement Directorate, the Income Tax authorities or the CBI. We have nothing to hide. They can raid us when they want to."
"There is something called alliance dharma, and there is a Lakshman rekha which you must not cross. Annamalai crosses the Lakshman rekha regularly with impunity and deliberately," says AIADMK Spokesperson Kovai Satyan.
"We had to break the alliance or our cadres would wonder what we are doing by not taking Annamalai to task," says Satyan.
"Our cadres are very happy that we broke the alliance as they were not comfortable with the BJP anyway."