Daredevil aerialist Nik Wallenda created history few nights ago when he successfully walked between skyscrapers on high wires suspended over 600 feet above Chicago without a harness or a safety net and blindfolded.
"I live by three words: never give up," said Wallenda after his jaw-dropping feat which was witnessed by nearly 60,000 people.
There are many others who live by Wallenda's mantra.
Let's take a look at some of them...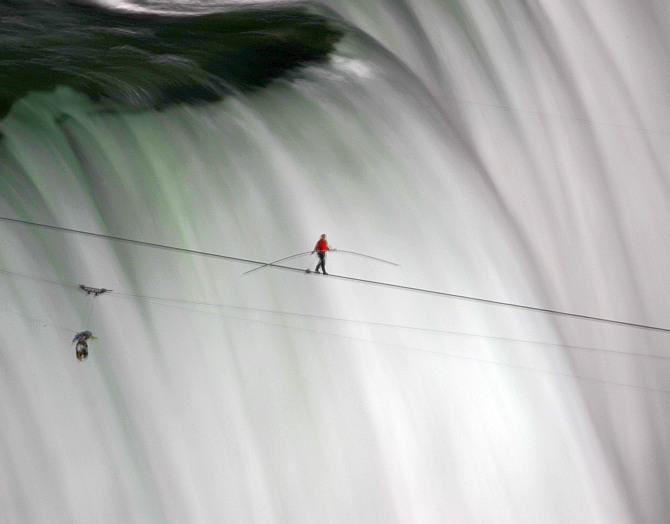 We start off with Nik Wallenda himself, this time taking a look at an earlier stunt when he tightrope walked from the United States to Canada over the Horseshoe Falls in Niagara Falls, Ontario in an unprecedented event that took almost 40 minutes. Photograph: Mark Blinch / Reuters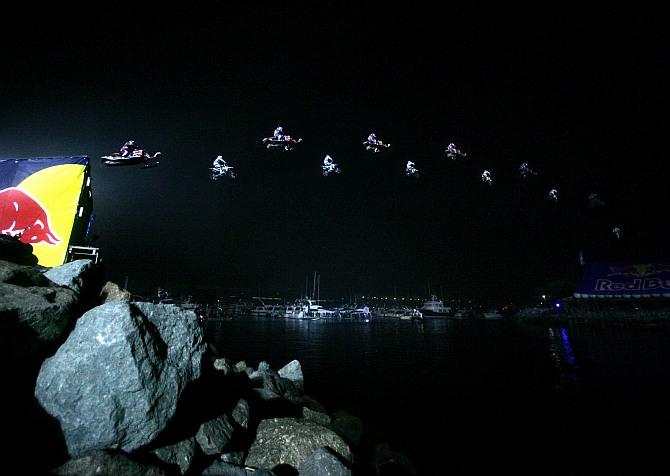 Multiple exposures were combined in camera to produce this image) Motorcycle rider Robbie Maddison jumps 378 feet, 9 inches and Snowmobile rider Levi LaVallee jumps 412 feet, 6 inches to both break the current jump record during the Red Bull: New Year. No Limits. on December 31, 2011 in San Diego, California. Photograph: Donald Miralle/Getty Images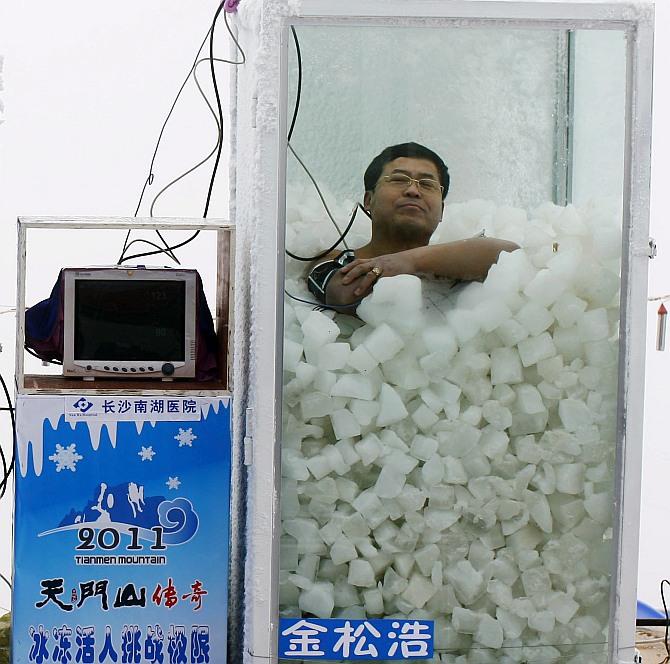 Jin Songhao is seen in a box filled with ice cubes during a cold-endurance competition in Zhangjiajie city, Hunan, China, January 3, 2011. Jin won the competition, clocking 120 minutes in the ice box. The previous world record, held by Dutchman Win Hof, was 115 minutes. Photograph: Reuters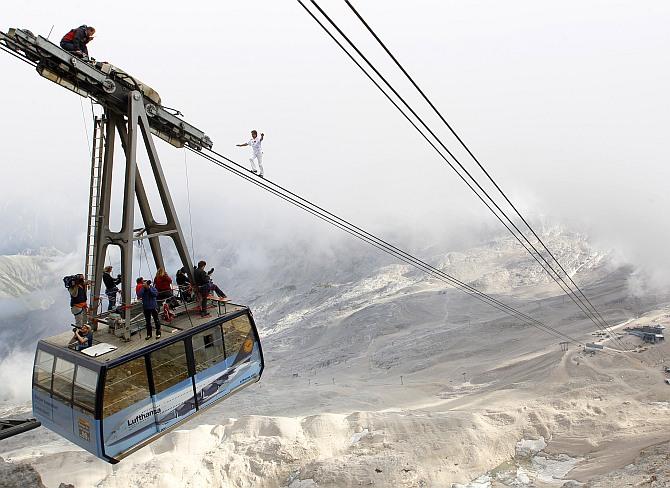 High wire artist Freddy Nock from Switzerland broke his own world record when he, as part of a charity event, walked on the ropeway of a cable car leading on Germany's highest mountain, the 2,962 metre (9,718 feet) Zugspitze, near the southern Bavarian resort of Garmisch-Partenkirchen August 20, 2011. Nock balanced on the 995 meters long rope. Photograph: Michaela Rehle / Reuters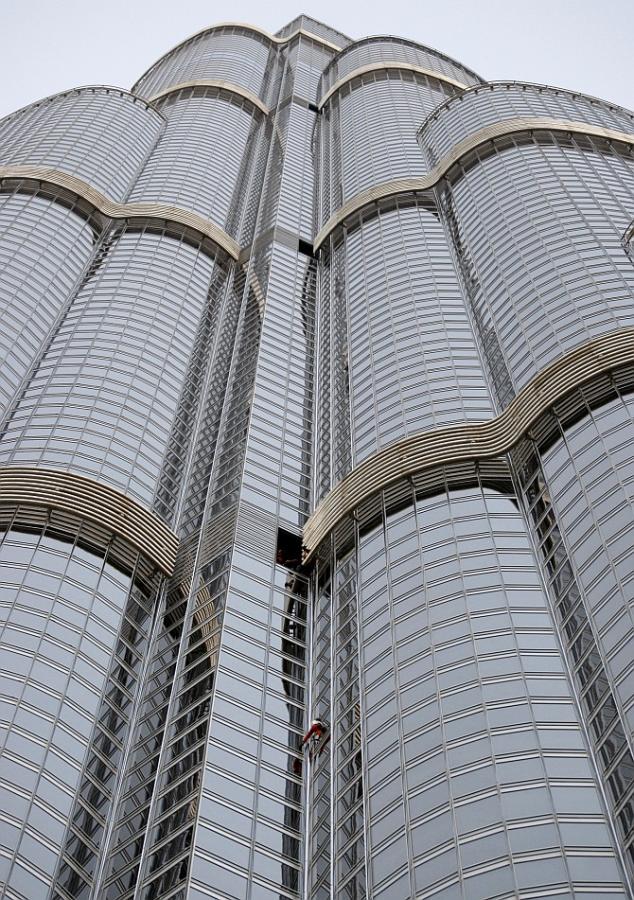 Known as the French Spiderman, French climber Alain Robert scales the world's tallest tower, the Burj Khalifa, with a height of 828 metres (2,717 ft), in Dubai March 28, 2011. Robert has also climbed the Sears Tower in Chicago, Sydney Opera House, Eiffel Tower in Paris and Empire State Building in New York City, without any safety devices. Photograph: Abdullah Muhsen / Reuters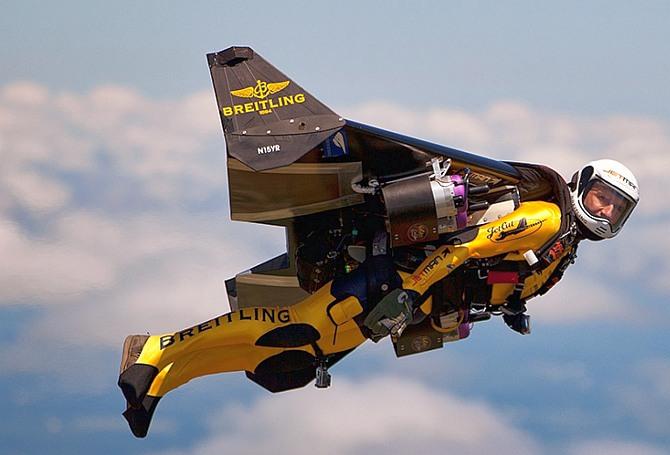 On September 26, 2008, Swiss adventurer Yves Rossy jumped from a plane over Calais, France and flew 200 mph crossing the English Channel in 13 minutes before landing in Dover, England. In the last couple of years he has flown over the Swiss Alps, the Grand Canyon, around Rio de Janeiro. Photograph: Yves Rossy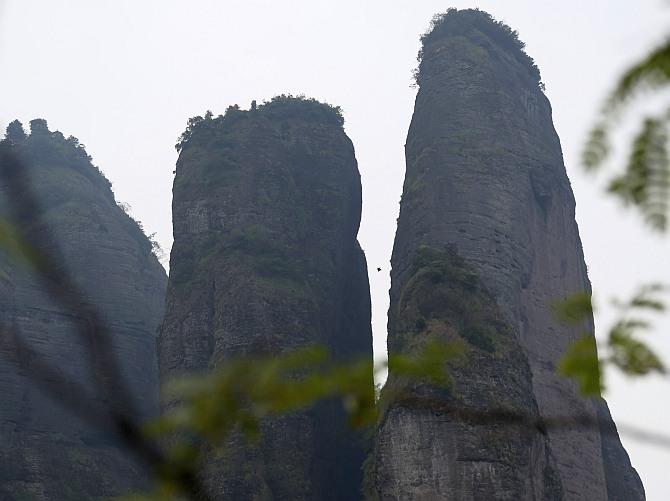 Wingsuit flyer Jeb Corliss of the US glides through a narrow valley in the Langshan Mountain in Quzhou, Jiangsu province September 28, 2013. Corliss successfully flew though the 298-meter (970 ft) deep valley, which is only 20 meters (65 ft) wide at its widest point and only 3.5 meters (11.4 ft) wide at its narrowest point, state media reported. Photograph: Getty Images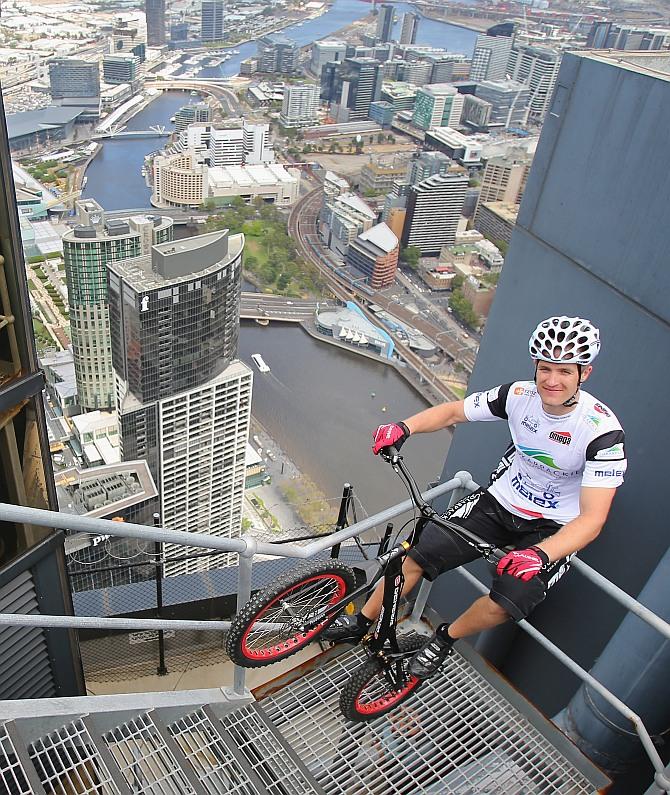 Krystian Herba, a Polish extreme cyclist jumps up the steps of Eureka Tower on a bicycle as he breaks a Guinness World Record at Eureka Tower on February 4, 2014 in Melbourne, Australia. Herba jumped up 2,919 steps on his bicycle in 1 hour 45 minutes without supporting himself with his hands or feet to break his own Guinness World Record. Photograph: Scott Barbour/Getty Images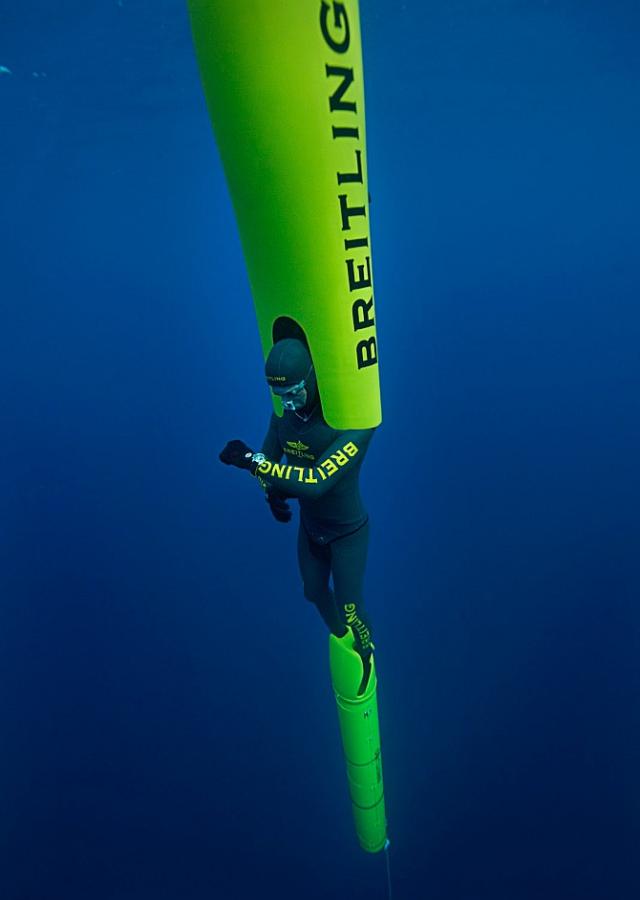 World record holder Herbert Nitsch dives to over 214m (702ft) on an historic No-Limits dive in 2007. He did this on a specially designed weighted sled that took him down more than 3.1m a second. He made this dive, on one breath of air, and the dive was over 4'24 mins long.


Thousands of Dutch swimmers braved the icy North Sea in Scheveningen, Netherlands, on January 1, 2012 to set a record during the traditional New Year's dip. Photograph: Michael Kooren / Reuters